Hello again! I'm Mark, and this is the Specimen Digest, a weekly typography newsletter.
It's raining again in Wales. Yes, I am a British person going on about the weather. Very stereotypical, I know. But… but! It rains a lot in Wales. So much, in fact, there are many words for rain in Welsh. I think my favourites are brasfrwrw, meaning 'big spaced drops', tywallt, meaning 'absolutely bucketing'. And finally Mae hi'n brwr hen wragedd a ffyn meaning 'It's raining old women and sticks'.
I've lived in Wales now for 20 years. I don't speak Welsh but many of my friends are first-language speakers. My children have learnt Welsh from when they first went to school, and will continue to do so until they are 16. It's a beautiful language – rich, diverse, and growing. The 'Land of Song' is, however, not a land of equally rich and diverse typography. It saddens me to say that almost every typographic representation of Wales, and of being Welsh, is… yes… those damned Celtic letterforms again. It pains me every time I see it. Almost as much as seeing yet another reimagining of a Welsh Dragon for a company logo (although Dragon's are cool. And how cool is it that the Welsh flag is a dragon!?).
I get it. Like other Celtic nations, it is a proud badge to wear. And there have been attempts to progress the typographic discussion with the striking letterforms adorning the facade of the wmc, and the typeface 'Wales' developed by Colophon. Or the Plaid Cymru corporate identity (but, Helvetica!? And Georgia!?). But these are shining beacons in an otherwise sea of dragon logos and lazy typography.
So, let's be brave, eh? Being patriotic doesn't mean being conservative. Like many countries with strong historical roots, looking forward doesn't have to mean always looking back.
I'm going on holiday tomorrow. In the rain. I shall make a soggy return in a couple of weeks and, in the meantime, enjoy a few specimens…
Until next week!
Mark
---
Specimens this week
Rustica Efficient and elegance is the name of the game with this specimen from TipoType. Simple, stacked typetesters, one or two 'in context' images. And then compiling all of the features, glyphs, and language support into a useful tabbed component at the bottom of their specimen.
Organic Pro A fairly standard specimen from Positype, but it's the glyph table that is of interest. Each preview of a glyph is shown with two other characters either side and is overlaid with lines for cap height, x-height and baseline. This is very useful to see glyphs in context with others.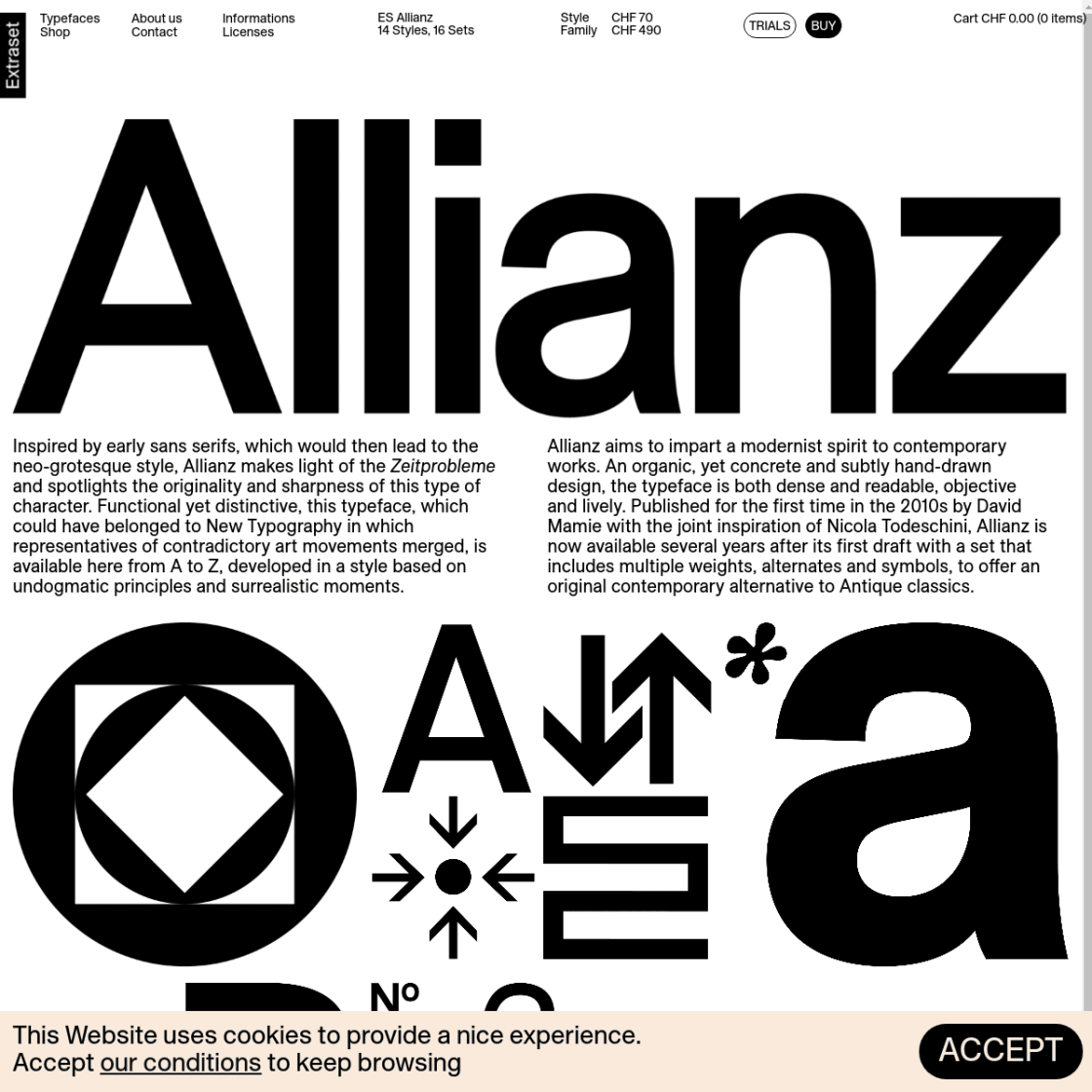 ES Allianz This is a clever layout from Extraset for their latest release, Allianz. Using borderless tiled animations and static graphics interesting combinations of glyphs and features the specimen builds into a tapestry. This simple but effective technique adds an added dimension to evaluating the typeface.
MD Nichrome The microsite for Nichrome is so well done. From the branding and accompanying video, to the stacked example phrases. The opentype feature layout is also a useful addition to clearly see the built-in features such as alternates and case-sensitive forms.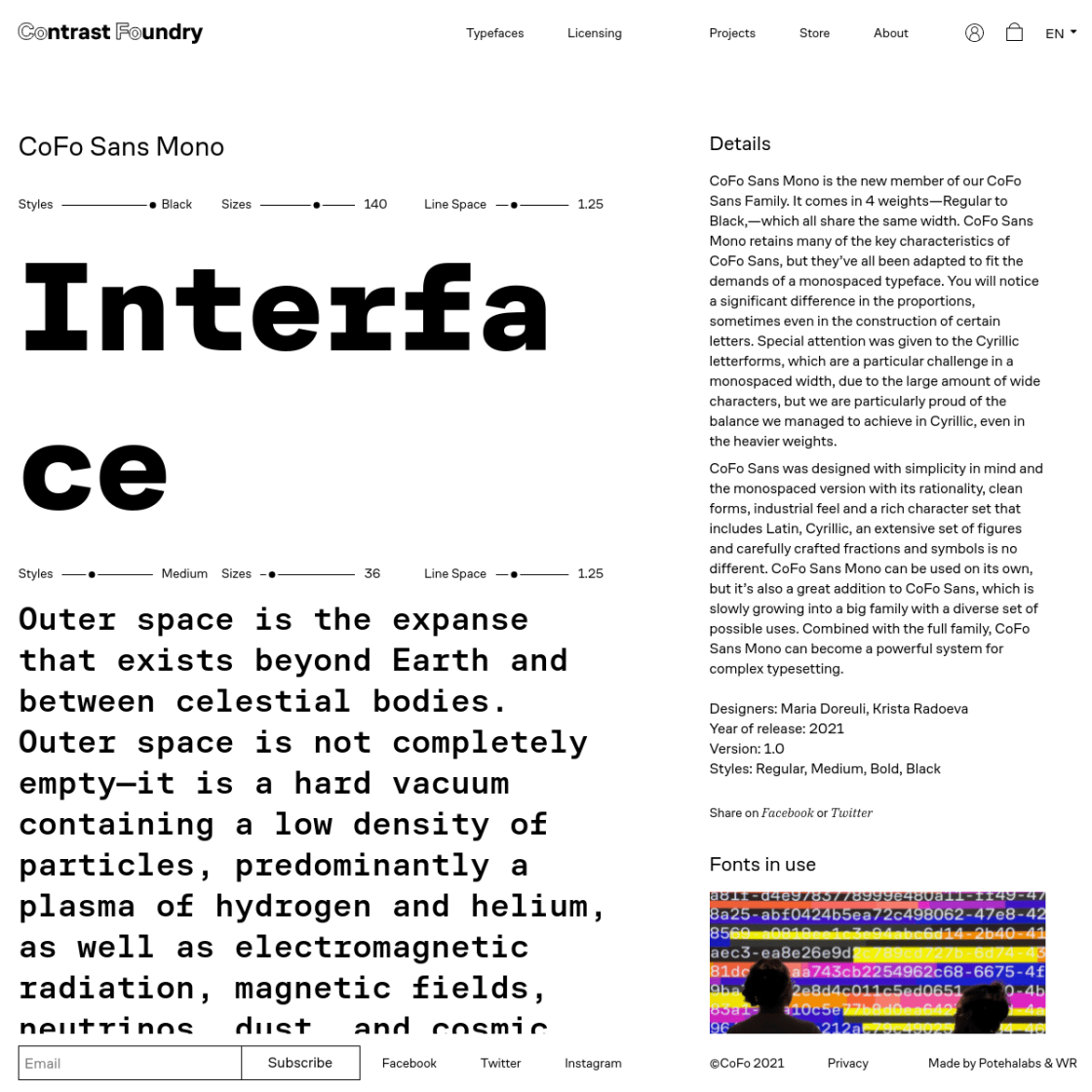 Cofo Sans Mono Contrast Foundry's specimens walk that fine line between useful and unconventional really well. The focussing on each side of the specimen is particularly interesting.
There are more specimens added this last week on the Type Specimen website. You can subscribe to the RSS feed for daily updates, or follow along on Twitter, if that takes your fancy.
A few interesting typography links
Toshi writes about a custom typeface he developed for Inkulinati.
A couple of great articles from Font Stand:
Emperor of Letters: Kamal Shedge
Making typefaces that open a new era
Graphic memory: the many lives of letters, from handwriting to digital fonts & back is an online (and in person in London) event worth a look.
Type Together write about the winner of the 2021 Gerard Unger scholarship.