Hello again! I'm Mark, and this is the Specimen Digest, a weekly typography newsletter.
I've been collecting, writing about, and studying digital type specimens for over a year now. Every week, I'm blown away by the amount of good work happening in the type design industry. As someone who worked at a big foundry and technology company, it's easy to forget that the type industry is so diverse and thriving.
I've learnt other things, too. Mostly about the design patterns that bubble to surface in digital specimens but also how often those emerging conventions fail to deliver on any user need. Let's take the example of type testers.
It blows my mind that there is no standard component in wide use for something that is present on a very large number of specimens. They are a very conventional interface designed to deliver against one need: 'I want to try this type out'. In my research, I saw this time and time again. Yet, still, specimens are released without them. Probably for good reason: they are time consuming to build – especially if you don't personally have the skills to do it.
Now let's take the flip side: marketing and 'type in use' examples. These are equally time consuming but the barrier to entry is lower. Type foundries collaborating with graphic designers results in some wonderful, original work. This stuff is important but, for a specimen, it is less important to being able to try the font, understanding the features, and the price. But how often do you see this material prioritised above all of that other boring stuff?
Getting the basics is hard for lots of reasons, but in my experience, sometimes it's because the basics are boring. They're repetitive. We've done them hundreds of times. I think, as designers of these things, we need to find beauty in the design and production of the most basic of interfaces.
Until next week!
Mark
---
Specimens this week
Irregardless ☠️ Oh no's specimens have been featured here before, but I had to include irregardless for its wonderful design. Checkout the 'containers' weight for some fun backgrounds to overlay text onto.
Tuner I do like a challenging interface. An interface that challenges conventions. This specimen from Production Type for Tuner does just that. An animated menu makes way for panels of content on the origin, design, and a specimen of features.
Collletttivo These specimens for Collletttivo are presented within little draggable windows in a. Mock OS interface. Cute.
Jost Jost is a tribute to Futura named after Heinrich Jost. With variable axes for weight and italics, the specimen opens with just that single type tester and a revolving carousel of example images. Nicely done.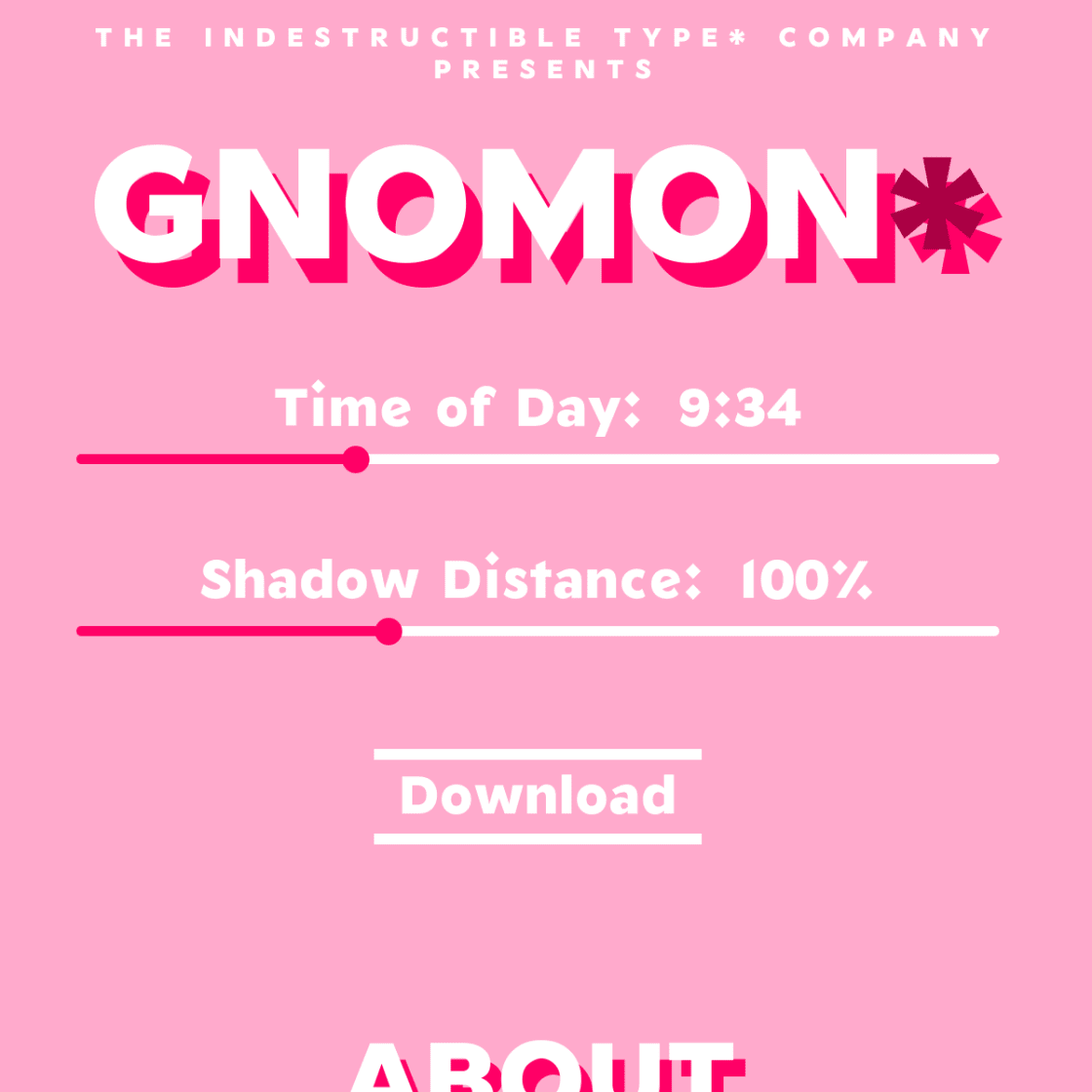 Gnomon An interesting specimen for free drop shadow variable font, Gnomon. The interesting aspect of this font is the unusual variable axis: 'time of day', and 'shadow distance'. This type of interface is brilliantly educational for the potential of variable fonts.
Santa Ana Sans From a functional perspective, this specimen for Santa Ana Sans is a little unconventional and a bit lacking. But, from a marketing perspective, it's probably one of the best I've seen. Scroll down to see brightly designed tiles of features, examples, and proposed applications.
There are more specimens added this last week on the Type Specimen website. You can subscribe to the RSS feed for daily updates, or follow along on Twitter, if that takes your fancy.
A few interesting typography links
An interview with Jean-Baptiste Levée from Production Type.
An interesting write-up of the new custom typeface for MoCa. It's refreshing to see the application of this type of commission over such a broad variety of output and products. Really makes the case for custom work.
Speaking of custom work, Grill Type wrote about the work they did for Pinterest.
Following on from my musings last week on optical weight, Typetheque updated of Lava with variable optical spacing. This is nifty and exactly the type of features that technology like variable fonts should allow.
Name Sans is a fabulous typeface in the making from Arrow Type. This enormous blog post details the story so far.