Hello again! I'm Mark, and this is the Specimen Digest, a weekly typography newsletter.
I was at my parent's house in the north of England for a few days earlier this week. They have a new oven in their kitchen. It's nice – quality stainless steel from a very reputable European brand. German engineering. Satisfying 'kerchunk' when you close the door. It's a multi-function oven – you know the type, all icons and dials. These types of interfaces – like TV remotes – suffer from what I like to call 'reinventing the wheelitis'. Design teams under pressure to deliver something new to find competitive advantage in an industry with ever decreasing margins. They reinvent the most conventional of icons with this brief in mind, always to the detriment of the user. Often good hardware is undermined by poor software. But anyway, surprisingly, this oven didn't seemed to suffer from this.
Making my breakfast one morning, I popped in the bowl and selected the microwave function no problem. Even managed to change the power settings without consulting a manual. An entirely conventional 'bleep' confirmed my selection before the oven did its thing. I'm of the age that, along with Sodastreams, microwave ovens always seem like magic.
Two minutes later I was rewarded with another little conventional 'bleep' informing me that the cooking was complete. And, on the little screen a confirmation message said: 'Finsihed'.
Finsihed.
The myriad of tiny design decisions that culminate to create a story of 'brand' in a product jokingly destroyed by a stupid typo. A really lazy 'should've been picked up in QA' typo. So this week, I'm focussed on the little things. The things that often get forgotten about. The things that, when they're all added together, tell the story of a product more effectively than any marketing campaign. It's where we should be spending our time.
Until next week!
Mark
---
Specimens this week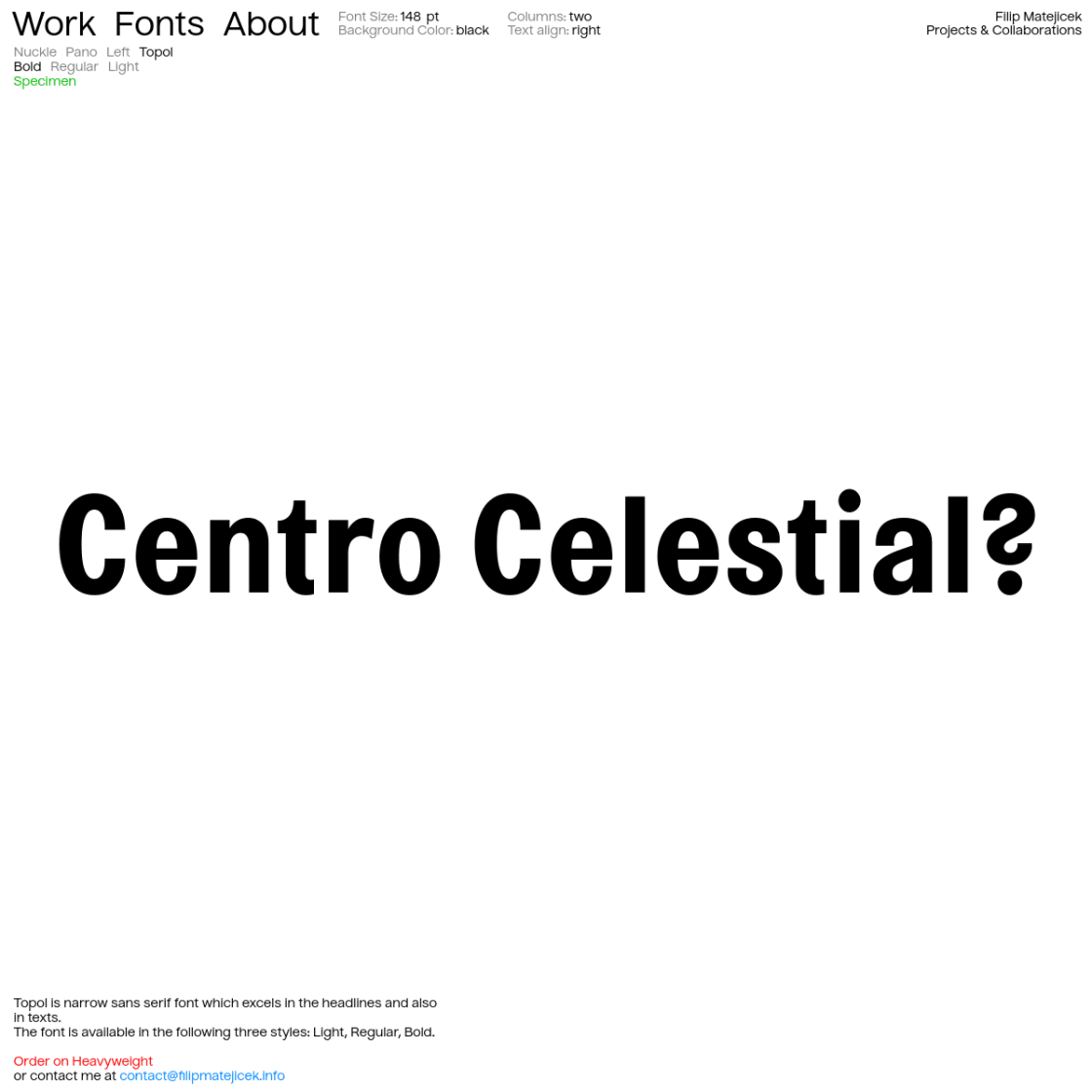 Topol There is something pleasingly simple about this specimen. Just a typetester with predefined pangrams at three different sizes navigable with toggles for three different weights. That's it. And, you could argue, that's all it needs to be.
Pleasure I'm not going to say too much about this one. Expect conventions to be broken, and preconceptions challenged.
Bau This specimen from Nodo Type Foundry is notable for it's long-form text type tester. It provides options for the user not seen in many specimens: multiple columns, multi-language, and different default character sets.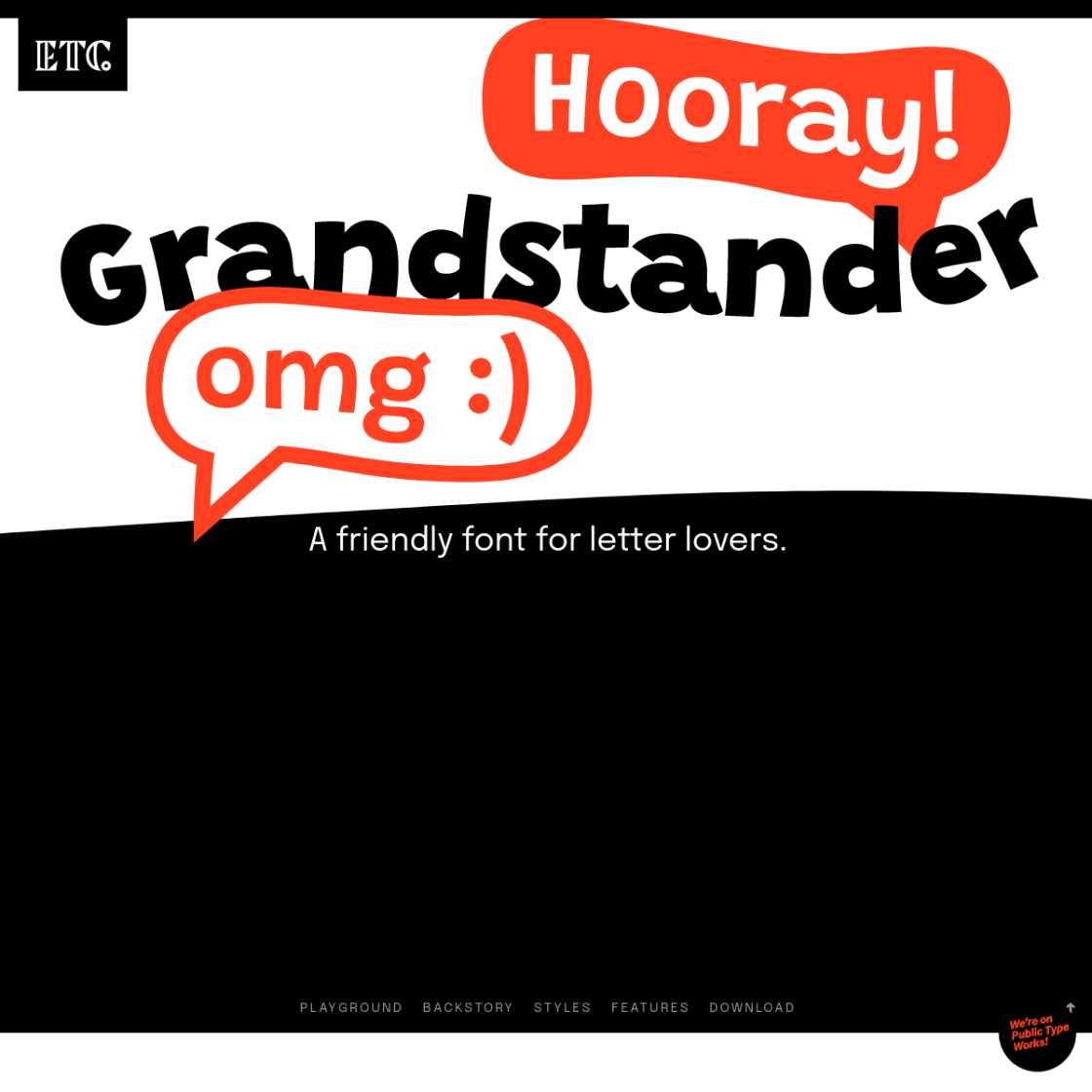 Grandstander A friendly font for letter lovers. A really great, functional specimen for Grandstander from ETC. Added benefit? It's available on Google Fonts for you to use now.
Round Refreshing specimen for a refreshing typeface. A stark black and white layout, large glyphs, with a conventional shopping cart. What's not to like?
There are more specimens added this last week on the Type Specimen website. You can subscribe to the RSS feed for daily updates, or follow along on Twitter, if that takes your fancy.
A few interesting typography links
Very refreshing typography and design at Collecteurs, The Museum of Private Collections
A couple of nice crowdfunded typefaces available at Publictype.works
I've been thinking a lot recently about the role of variable fonts with multi screen and device environments. My feeling is they are more useful than we might think and the design industry as a whole lacks the knowledge to join the gaps between variable font axes and real-world design application. With this in mind, here are a few interesting articles to read on this.
Uniwidth typefaces for interface design
However, if you've ever worked with precisely designed interfaces before, you know how frustrating it can be to find your painstakingly placed labels shoot around like flipper balls when you switch them from regular to bold.

The solution to this problem: "uniwidth" typefaces, sometimes also called "equal-width", "duplexed" or "multiplexed" typefaces. And no, I am not talking about monospaced fonts here.
Some excellent variable font demos from TypeTogether