Hello again! I'm Mark, and this is the Specimen Digest, a weekly typography newsletter.
I've always been attracted to experimental or overly expressive typefaces. So, this week, a couple of typefaces jumped out at me whilst I was bookmarking some specimens.
The first is Noordenwind from Olga Umpeleva of the class of 2020 from TypeMedia.
Noordenwind is:
a typeface inspired by the turbulent Dutch winds, which blow in all directions simultaneously. Noordenwind starts from a simple place. There are not enough serifs in our typefaces.
I'd urge you to watch the video on the TypeMedia website from Olga for insight into the design process. The serif weights are particularly interesting to me where the serifs grow from all over the glyphs, and each weight inspired by the wind of each month.
The second experimental typeface that jumped out at me this week was Mercure designed by Charles Mazé.
Mercure is:
the result of an inquiry into Latin epigraphy and the typographic forms associated with that discipline. Epigraphy is the study of écritures exposées (exposed writings), typically ancient or classical inscriptions engraved in stone or metal. The developments in mid-nineteenth century Latin epigraphy required new methods to transcribe classical inscriptions into print, which in turn required and inspired new typefaces.
Mercure has a whole range of specific glyphs and font features used in écritures exposées. If you download the PDF specimen, you can read them in detail, but I'll highlight a couple of really interesting ones.
Doubtful Readings: Subscript Dots A subscript dot should be placed under any letter which as a whole is so dim that, in isolation, neither the letter as a whole, nor any stroke of it, could be positively read. A subscript dot should be placed under any letter of which a stroke or strokes are clear, but do not suffice to determine what the letter would be in isolation.

Attrition: Shading ▨▨ Where the surface is in a condition such that it appears to have been inscribed, but attrition has made the existence of inscribed letters doubtful, shading will convey a correct notion.
These replacement glyphs are used to accurately transcribe what is there in the stone. Not to take a guess at what glyph it should be, but to show the damage, transcribe the weathering. The font also includes a bunch of border elements to try and document the context of the glyphs within the main body of the text. So interesting!
Until next week!
Mark
---
Specimens this week
Fiction Altform Termoli Noe Display Lausanne
Fiction As a specimen to evaluate weights at different sizes, different settings, many don't come as good as this one. In-depth and detailed, however it still lacks some contextual designs to really demonstrate the font in action.
Altform CoType's sepcimens are really good in their clarity and simplicity. The overlaying of content areas on scroll is a simple but effective little trick to clearly demonstrate different content areas, but also adds subtle animation and a feeling of depth.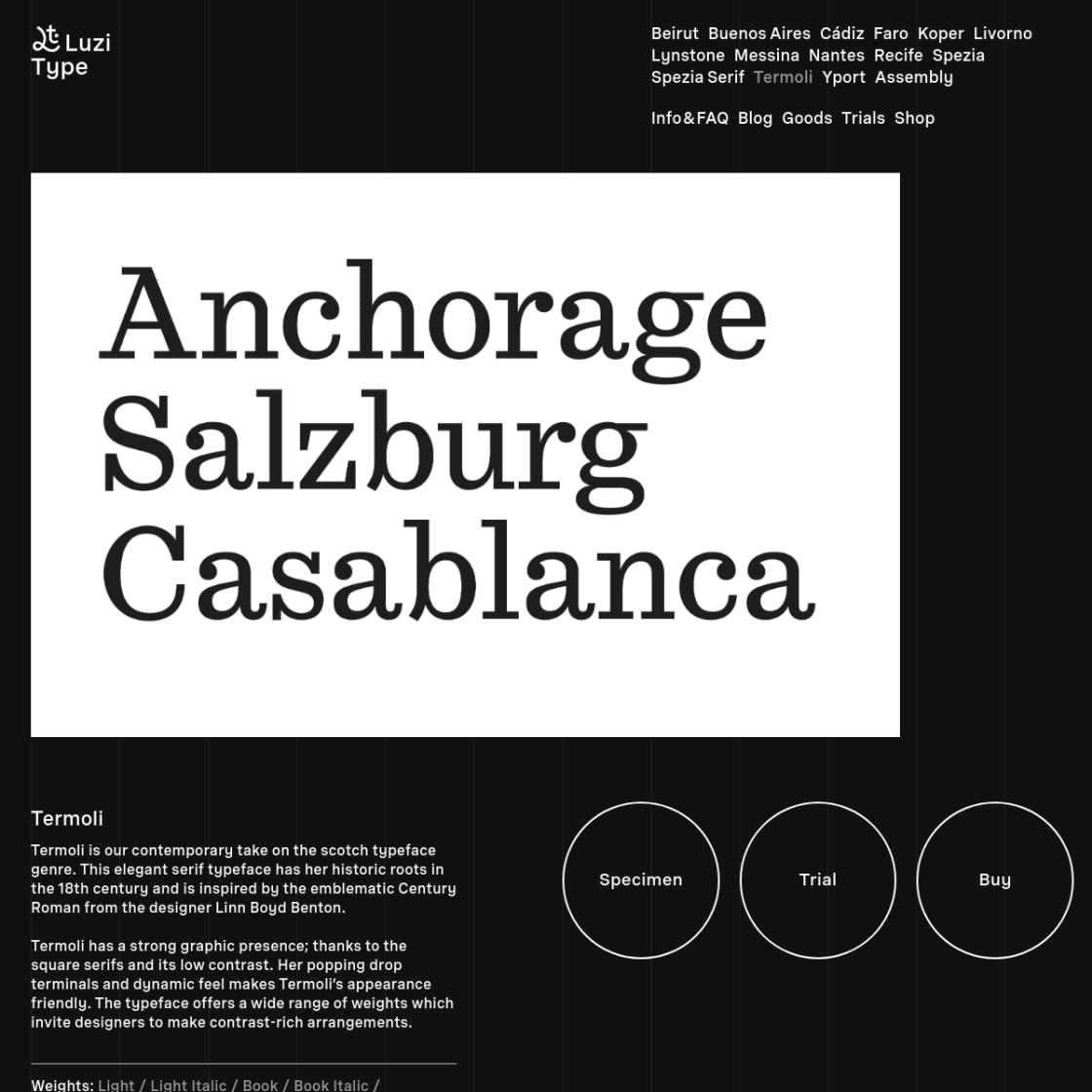 Termoli Termoli is a contemporary take on the scotch typeface genre. The specimen is an interesting assortment of white on black content elements and type testers.
Noe Display A couple of things to admire here but not the things you'd expect. The in-specimen navigation is subtle, supportive, and stays out of the way. The 'buy' buttons next to each type tester. The simple introduction of a centred waterfall.
There are more specimens added this last week on the Type Specimen website. You can subscribe to the RSS feed for daily updates, or follow along on Twitter, if that takes your fancy.
A few interesting typography links
Mr Bingo released some lovely typographic (and one nsfw!) Zoom backgrounds
u and uː vowel signs of Malayalam