Hello again! I'm Mark, and this is the Specimen Digest, a weekly typography newsletter.
Every now and then a micro site or in-depth type specimen is revealed to support a font release. Without a doubt the cream of the crop lately have been the micro sites from Grilli Type. Each and every one is a considered, thoughtful piece of design. Yet, despite the bar being slightly raised release after release, Grilli iType keep on delivering.
Their latest release, GT Maru, (also linked below) has been developed along with Sensor Station with animations from Josh Schaub.
So, what makes it so good? In my experience it delivers on the three requirements for an engaging, successful digital type specimen: 1. It provides evaluation detail (features, glyphs, licensing, price). 2. It inspires the potential customer enough to want to part with their cash. 3. It tells the story and context of potential use. Many, many digital specimens don't do all three of these, or they place weighting and emphasis on only one or two. These mini sites from Grilli Type walk that fine line of balance between all three and do it consistently. Anyway, enough of me. Go and have a look!
Until next week!
Mark
---
Specimens this week
Faubourg This specimen for Faubourg from Positype follows the increasing trend of 'everything is a type tester' but only having the controls available when the user is interacting with that content which makes things look nicely decluttered the rest of the time. Nice addition of the accompanying glyphs on the glyph preview.
GT Maru Well, Grilli Type do it again. A wonderful, thoughtful micro site for the new font GT Maru. Crammed full of engaging illustrations and animations whilst not distracting from key selling points and features of the new font. It's just so good.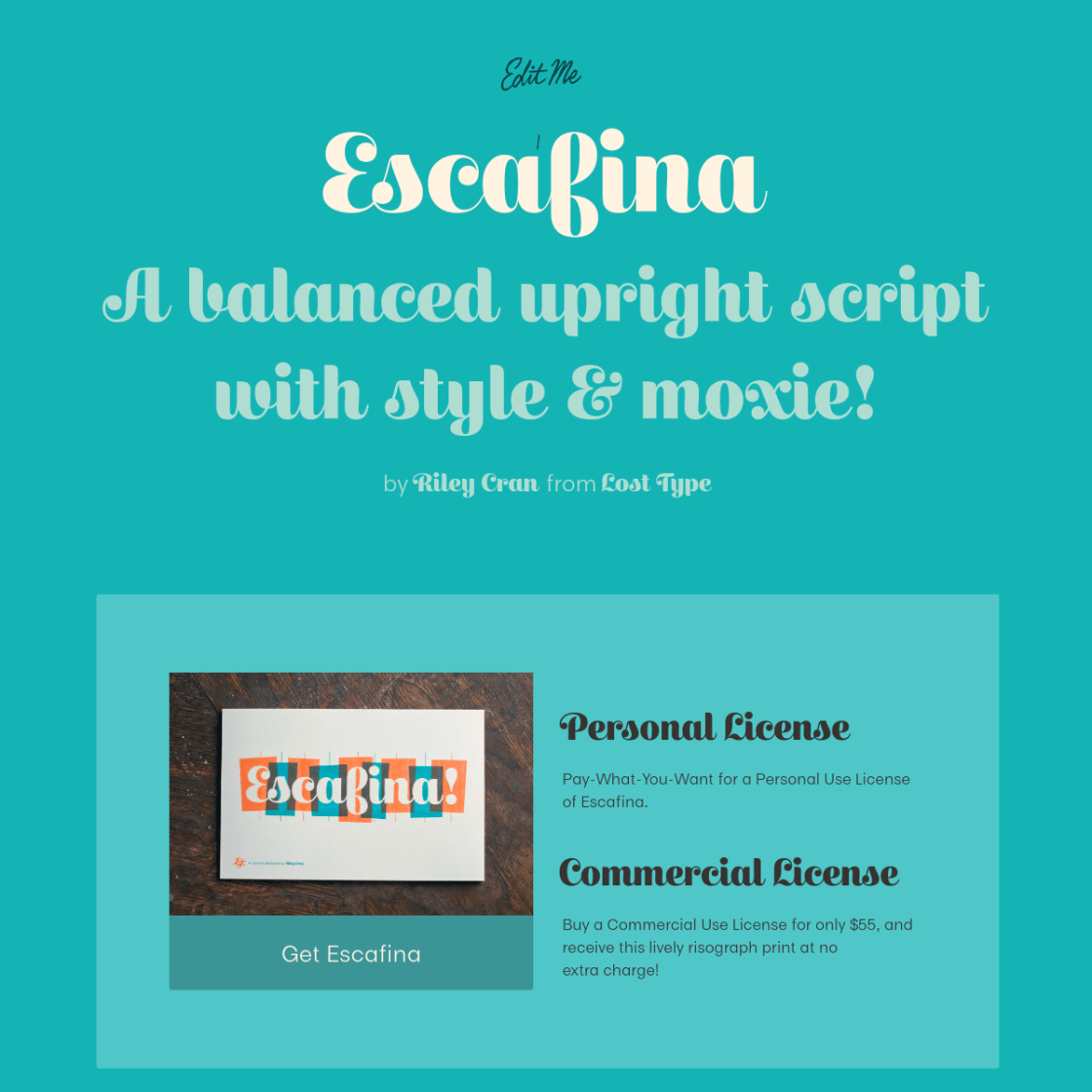 Escafina This is a characterful specimen for Escafina. A simple, bright colour palette of the design pairs well with the playful curves of the typeface.
Eubie Script These simple, single-page specimens - which just outline the features of the font - but rely on the design of the page to really sell the idea are really effective. I love the arrows surrounding the buy button.
There are more specimens added this last week on the Type Specimen website. You can subscribe to the RSS feed for daily updates, or follow along on Twitter, if that takes your fancy.
A few interesting typography links
Monotype type trends report is released.
What's Super About Super Families? from Steve Matteson.
Engaging typography is so much simpler when a designer is provided with a coordinated collection of fonts to choose from. Font "super families", by design, have a coordinated set of design attributes which makes choosing harmonious pairings and substitutions easy and predictable. Like adding different instruments playing the same theme, you enrich the composition to the delight of the reader.
Intrinsic Typography is the Future of Styling Text on the Web from Scott Kellum
These are delightful project creating handmade paper type. '36 Days of Type' by Mel Edwards is a lovely idea.
Microsoft is changing the default Office font and wants your help to pick a new one
ATypI de-adopts Vox-ATypI typeface classification
A really thoughtful and detailed walk through of the creation of Postea by Typetogether.