Hello again! I'm Mark, and this is the Specimen Digest, a weekly typography newsletter.
When I went to university about a million years ago, I had two choices at the time: a degree in typography (not type design – an important distinction) at either the University of Plymouth or the University of Portsmouth.
It was an early spring day in 1995 that I undertook the drive with my friend Iain from near Manchester in the UK, down to Portsmouth, over to Plymouth, then to Newquay in Cornwall to stay with some friends before driving back the next day. For our tiny country, it was a big drive. I remember the day so well for another reason. Throughout the day, there was wall to wall coverage of Stephen Fry suddenly going missing (he'd had a breakdown and ended up in Belgium).
I'd firmly held Plymouth University in my head as the place to go. It boasted amazing printing capability with lots of presses and cases and cases of type. Portsmouth University – whilst having a solid background in book and editorial design, which is where my interests lay – it did not have the resources. So we arrived at Portsmouth first and I was thinking I'd be in and out. I couldn't have been more wrong. Even then, the lecturers – two lovely champs called Terry and Brian – spoke to gave me their time as we enjoyed a cup of tea. They were interested in me, where my work was headed, and what the university could offer. Whilst the facilities did not have the historical clout of Plymouth, they were excellent and focussed on modern technology. They boasted wall to wall Macs and dedicated typesetting facilities.
Plymouth was a disappointment, unfortunately. Maybe I caught it on a bad day. It was quiet. No students. The lecturers had little time to talk to me and, when they did, it was rushed. I gave them the benefit of the doubt. But, despite the smell of old wood, ink and solvent, it was the opportunity to work with new technology that excited me. 'Why waste my time with letterpress?' I remember asking my friend Iain as he took a long drag on his cigarette in his workhorse of an Astra white van. He just raised his eyebrows. I forgot all about Plymouth university and their amazing collection of letterpress type and equipment.
Then, this week, I saw the release of PlymouthPress – a digital recreation of their letterpress type library – and it all came flooding back. Regrets? Not really. My degree at Portsmouth was excellent and shaped my thinking and craft as a designer to this day. But, I'd still like to spend a couple of weeks amongst this type now. Now I can.
Until next week!
Mark
---
Specimens this week
PlymouthPress More like a product page than a type specimen, but it's an interesting project. I really like the randomisation feature. I just wish there was an outlined webfont version!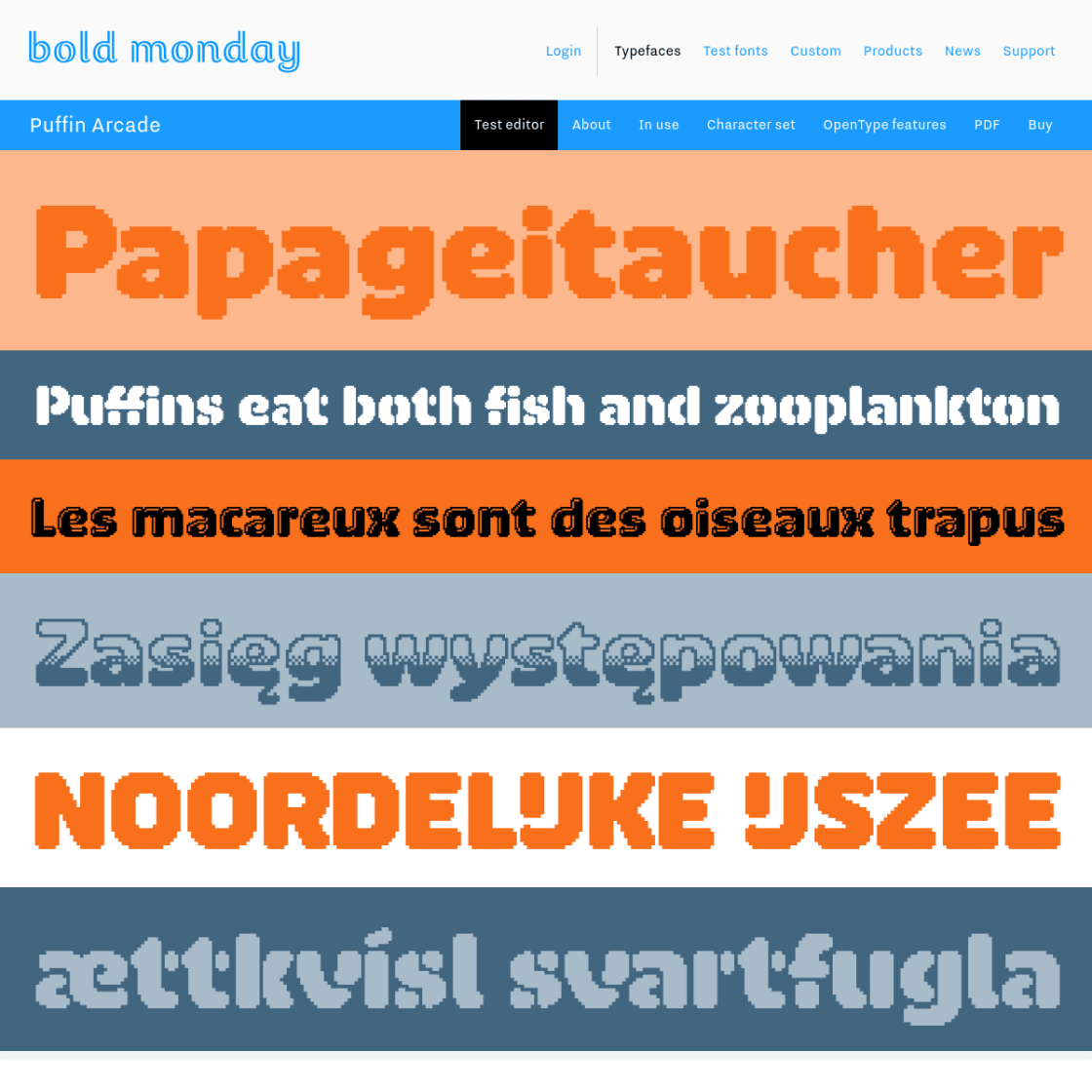 Puffin Arcade Want some throwback arcade chrome pixel fonts? Puffin Arcade is brilliant. Reminds me of Bubble Bobble from about 1988 on the Amiga. It's aching for a bespoke mini site or specimen rather than being presented as part of the wider Bold Monday catalogue.
Fiction As a specimen to evaluate weights at different sizes, different settings, many don't come as good as this one. In-depth and detailed, however it still lacks some contextual designs to really demonstrate the font in action.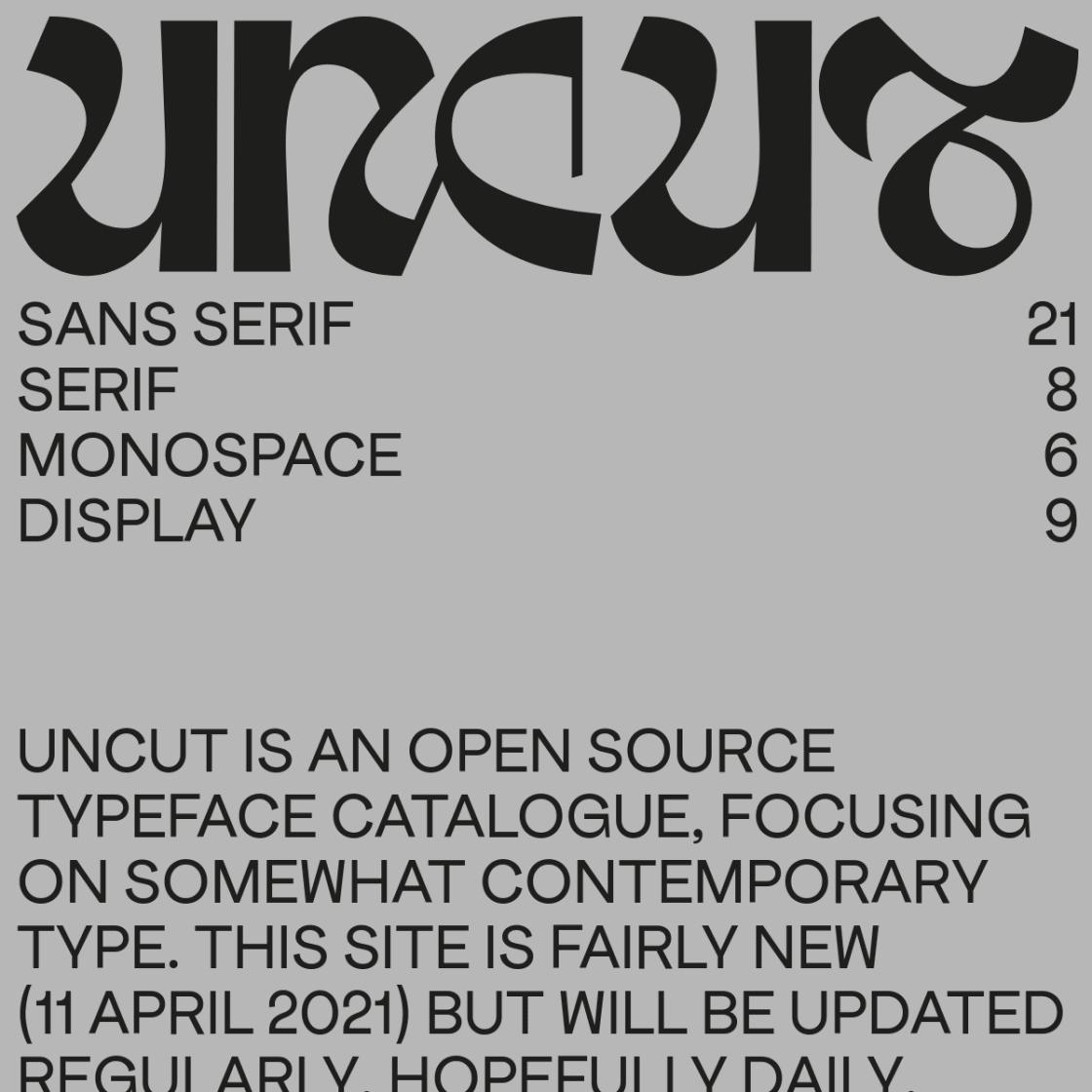 UNCUT An unusual website. Or catalogue? Or specimen(s)? Maybe it's a foundry? I'm a little unsure, but what I do like is the bold, unconventional web design. Feels like a print publication for a contemporary gallery space. Refreshing!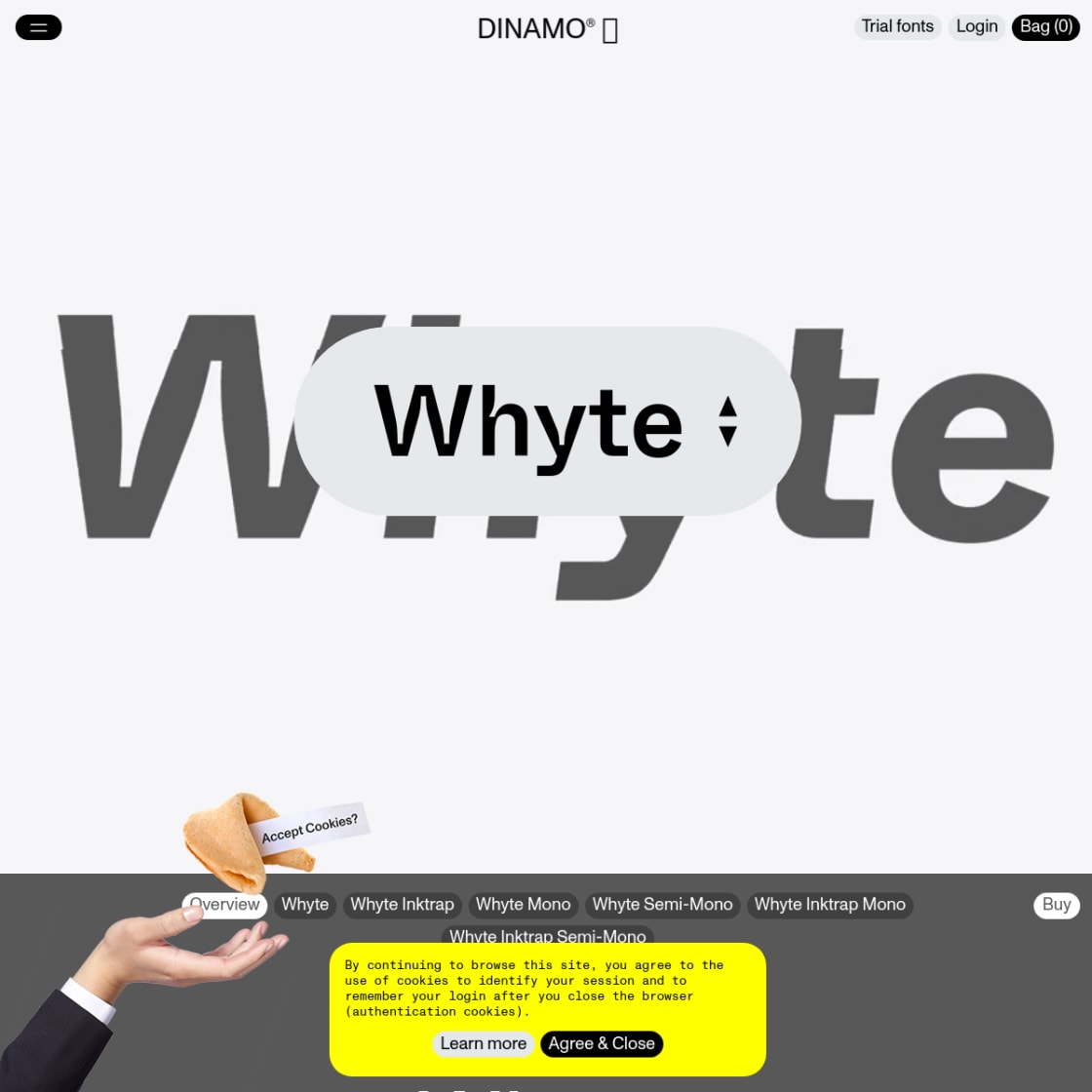 Whyte I'm a massive fan of Dinamo's typefaces and specimens and this is no exception. Whyte is a brilliant typeface and specimen is bold and delightful, yet useful and usable. A delicate balance realised very well, here.
TT Trailers The refreshing aspect of this efficient specimen for Trailers is the multi-lingual predefined sample text at different lengths. So often, language evaluation is limited to a list of supported languages. More specimens taking this approach would be welcome.
RT Rondelle This is more 'essay as specimen' for Rondelle. Describing the motivation, design process, and results is refreshing in its depth providing the user with plenty of opportunity to review the features.
There are more specimens added this last week on the Type Specimen website. You can subscribe to the RSS feed for daily updates, or follow along on Twitter, if that takes your fancy.
A few interesting typography links
A revealing interview with Kris Sowersby of Klim Type Foundry.
Dinamo announce an exclusive partnership with Cargo
Typohacks is 'the first ever manual for gender-sensitive typography for the German language'. Provides guidance in the typographic use of the gender star, which makes it possible to refer to all genders in writing. (German language page).
Database of sans serifs sold in 19th-century Germany. This is an amazing resource from Dan Reynolds.
The Letterform Archive are having an auction. If you fancy owning a piece of type history, then register for the preview event.