Hello again! I'm Mark, and this is the Specimen Digest, a weekly typography newsletter.
You should read this. We all should read this. About Legibility and Readability from Bruno Maag is just about the clearest explanation of the differences between legibility and readability and what it means to design and set accessible and comprehensible type.
Not to steal his thunder, but to summarise:
Legibility is:
…the definition of how quickly and accurately a reader can recognise a character in any given writing system, in any given language. This is purely about the shaping of a character and when legibility testing is applied, external factors such as reading conditions and the test participant abilities need to be taken into account.
And Readability is:
… the definition of how smoothly and quickly a reader can read a passage of text, irrespective of the content of that text. The choice of typeface is important in this context but more important are letter and line spacing. They determine how easily the eyes can fixate during a saccade. Smoothness of reading is dependent on regular and consecutive saccade flow, and is interrupted when the eyes have to jump back and forth on a line of text.
The majority of most of our work as designers who use type, rather than design it, is concerned with readability. In university I was taught that on the very first day of typography class: 'we are here to help people read'. That is the most basic of outputs of a good typographer. Just as a chef must produce edible food, a designer must produce readable text. And it's not as easy as you might think, especially for digital consumption.
Whilst out print cousins have long enjoyed absolute control of their output, we don't have the same luxury. In the early days of the web – when there were no web fonts – we actually got pretty good at these fundamentals. We got to know Verdana and Georgia really, really well. We knew Verdana looked terrible above 18px, and performed at its best at 11px. We knew Georgia italic is still probably the best italic set small. As time has gone by, we've had to become much more comfortable knowing we can't control exactly how our type will render because we just don't know how, when, and where it will be consumed.
Setting type for digital consumption is a bit like steering a container ship; a little nudge here, another there. Sort of going in the right direction, but not exactly. Most of the pain we feel as digital typographers is getting comfortable with that. Twenty odd years later, I still struggle.
Bruno is a member of the Readability Group and they just released their findings from their recent font survey. You can register to get a copy.
Until next week!
Mark
---
Specimens this week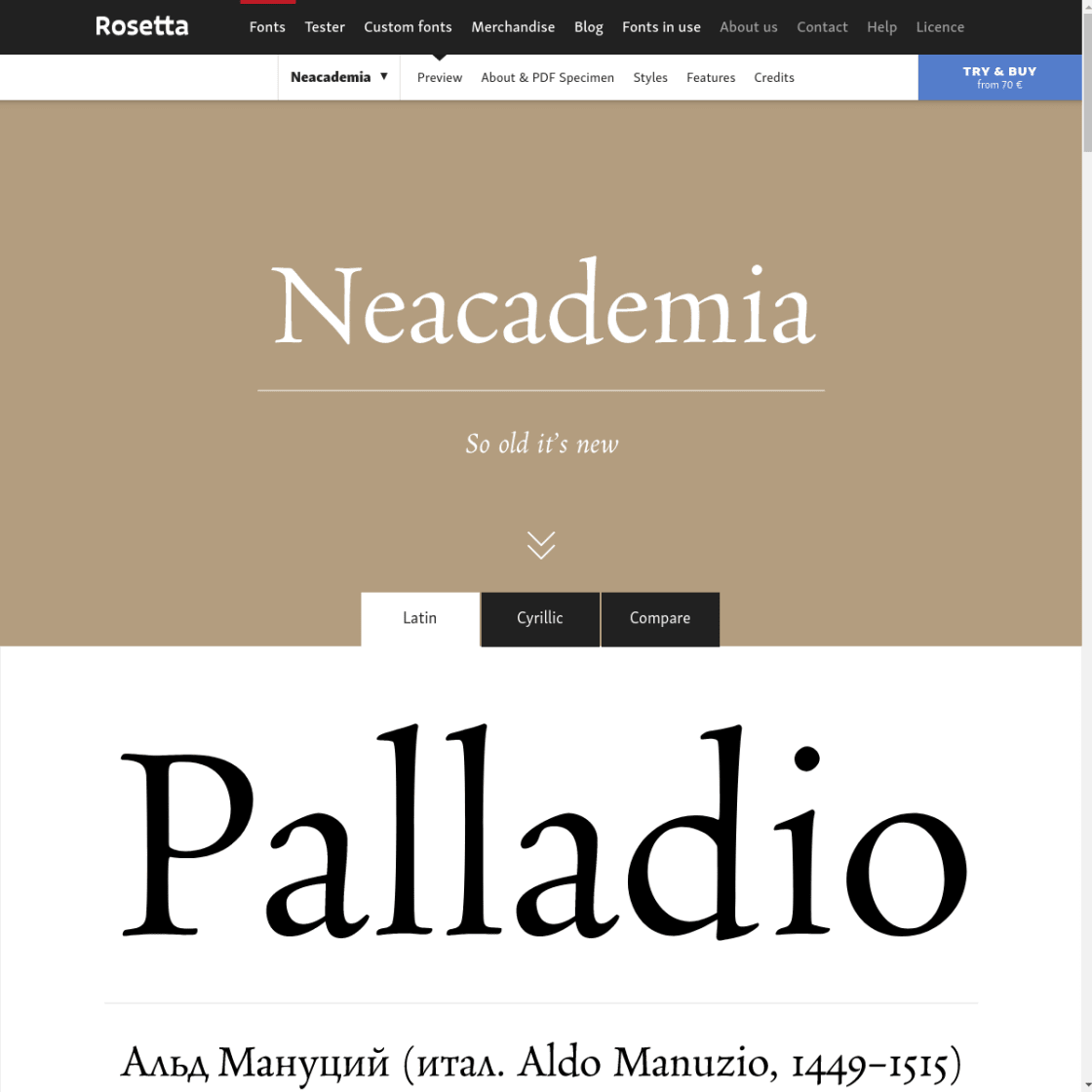 Neacademia Neacademia is a Latin and Cyrillic type family inspired by the types cut by 15th century Italian punchcutter Francesco Griffo for the famous Venetian printer and publisher Aldus Manutius. The specimen is available in Latin or Cyrillic which is nice – so often language support is shown in the glyph table, rather being set as text.
Fatype Almost every bit of type on this specimen is a type tester. Controls reviewing themselves on hover, they are stacked, starting with huge single words before slowly changing into more long form content all the way to paragraphs.
Avona Serif Another specimen where the buying options caught my eye. A multitude of boxes – each labelled with the font packages, ranging from Personal, to Large, allow the user to easily choose. The one thing that caught my eye was the 'pay-what-you-want' for non-commercial and testing purposes. An interesting alternative to limited trial fonts.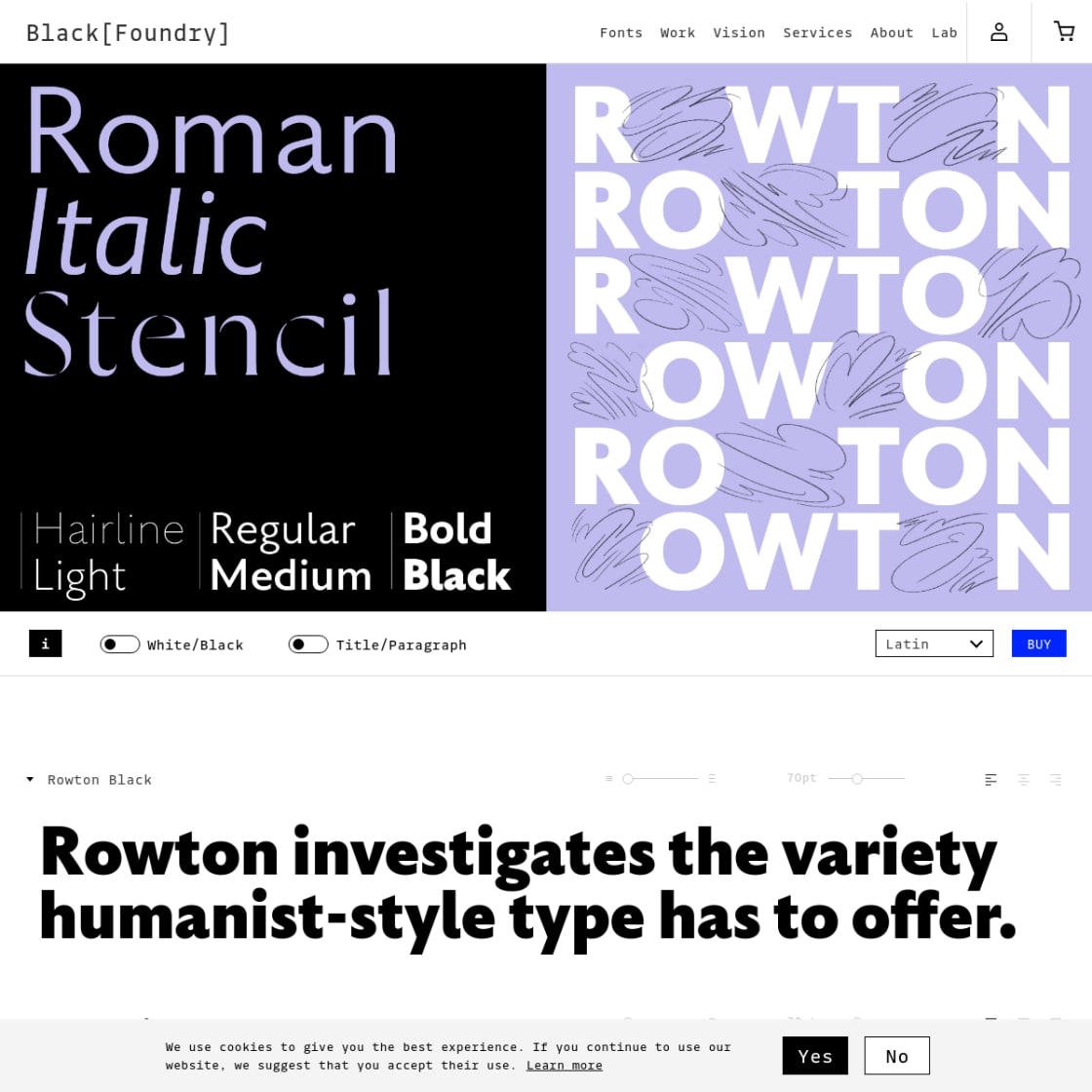 Rowton This specimen for Rowton has the usual components: type testers, carousel of designed images etc. But, rather unglamorously, it's the buying options that sets this apart. A really simple walk through licence type, scripts, and individual weights and promotional packages. Super clear and easy.
Lenora When most digital type specimens seem to be a single scrollable page, it can be hard to miss those that split the vertical sections into different web pages. This was the case for me with the specimen for Lenora – I somehow missed the navigation! A thorough specimen with excellent use of spot colour to draw the user's eye.
There are more specimens added this last week on the Type Specimen website. You can subscribe to the RSS feed for daily updates, or follow along on Twitter, if that takes your fancy.
A few interesting typography links
An online book on Vietnamese Typography by Donny Trương is worth your time.
Should we standardize the naming of font weights? This discussion goes round and round, but this article outlines the challenges in any kind of standardisation (sorry, British spelling, but, you know, I'm British!).
The Scourge of Arial from Mark Simonson is something I haven't read. Twenty years old, and still relevant.
Inside The Design The Case For Better Watch Typography is a good read. As the subhead says 'Watchmakers are master craftspeople. Why do so few invest in lettering?'. I often feel that way about many things. Mostly car manufacturers, though. Especially in dashboard UI, but don't get me started on that.