Hello again! I'm Mark, and this is the Specimen Digest, a weekly typography newsletter.
A few years ago now, I used to work at one of the largest font technology companies. We probably all know the one I'm talking about. It was there, sat in a tiny temporary office in London, that I first met Toshi.
He was stood facing his computer screen with an Xbox controller in his hands, enormous headphones on, staring without blinking. His fingers and thumbs a blur on the controller. This went on for some time. At first, I thought he was playing games. Bit odd, during 'office hours' but, you know, these creative types need that kind of balance. I say that knowing, I too, have to punctuate my day in order to keep creatively fresh. Anyway. Maybe 30 minutes went by and I just couldn't contain myself anymore. I had to ask.
Walking around the desk, I saw he was kerning type with the controller and a python script he'd hacked together. 'I just find it easier as a control mechanism for this type of work than a keyboard and mouse'. Brilliant.
Toshi is a talented, thoughtful type designer. At the end of last year, he left that type company and started his own foundry. This week, he released Codelia. A beautifully sensitive monospaced humanist typeface that is designed to be stared at for ten hours a day, every day. In his own words:
Its round shapes are easier on the eyes and make the code look less intimidating. It is not designed to make maximum use of every pixel on screen, but to make you forget about pixels. The italic is full of personality but sober enough to not draw unnecessary attention. It is fun but not a joke, and takes its job seriously.
If I was to write the brief to produce the perfect font for a coding environment, this would be it. It's a tall order, but I reckon Toshi's delivered.
Until next week!
Mark
---
Specimens this week
Transducer Font Family There is just something about slightly extended or condensed typefaces that take me right back to memories of Space Lego, ABBA, and the early '80's Where everything was brown and orange. Not this specimen, though. Stark, stylish black type testers display large type harking back to those more stylish days.
Adams Italic Just look at those swash italics! Beautiful font, and quite a simple specimen – from a functional and aesthetic point of view. But what stands out on this is the copywriting. The wonderful little story sits alongside the font in the quirkiest of ways. There are other short stories o the site as well for you to enjoy.
Mānuka Collection A big release from Klim, and, as you'd expect, the specimen is pretty special. Following similar information architecture to the other specimens in the collection, Mānuka's distinctive branding sits atop the specimen and across all of the marketing. That's what I like about Klim's releases: the thought and careful execution given to branding every release.
Codelia Not a specimen as such, but I know Toshi and the care and attention he puts into the design of his typefaces. Codelia is no exception. Beautifully designed for a difficult work environment, it's sensitive to the needs of programmers who sit all day looking at code.
Noi Grotesk Family Perhaps the longest scrolling foundry homepage I've seen. Atop is the specimen for Now Grotesk with some brilliantly designed components outlining the font features and design details.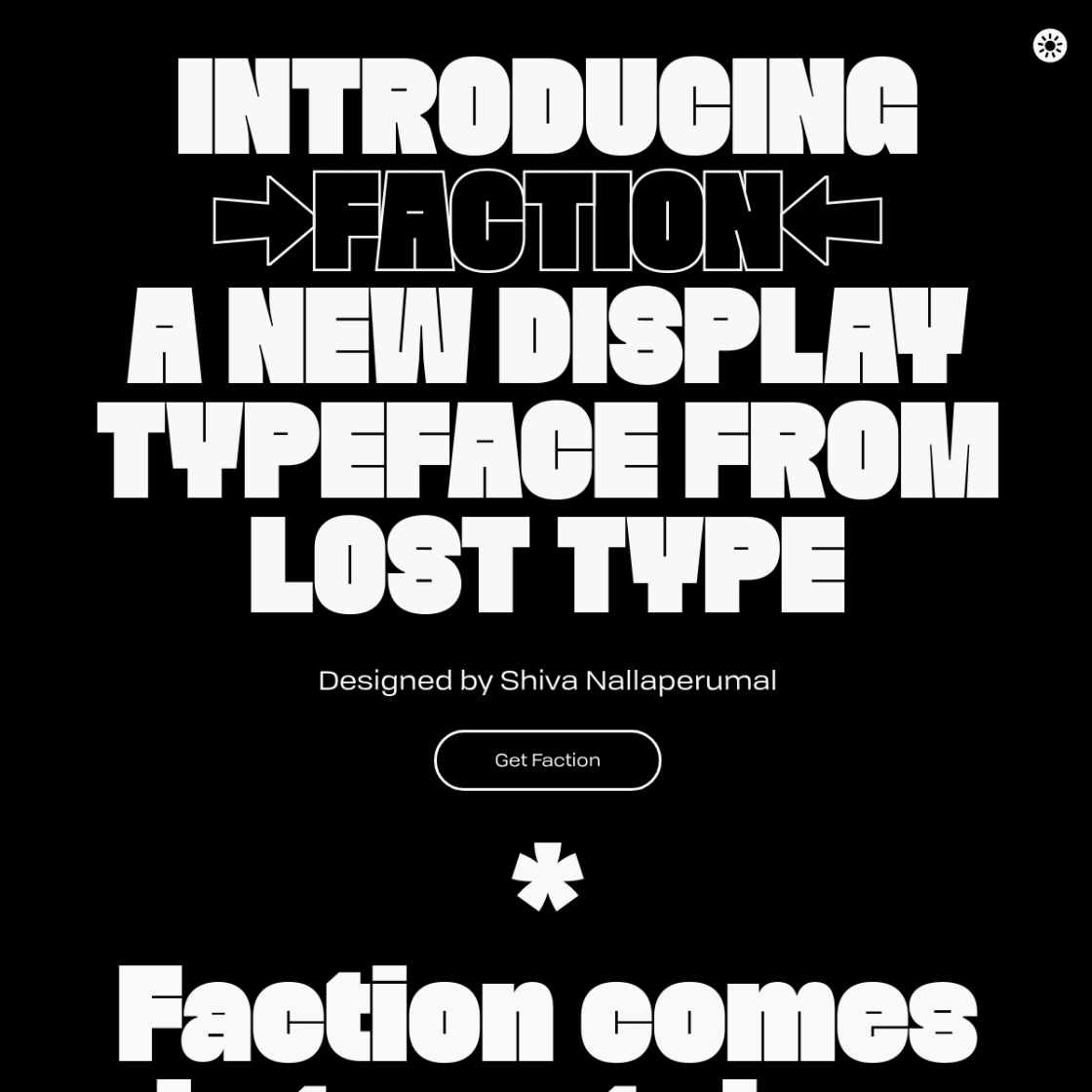 Faction I'm a big fan of combining the design story of the typeface in a specimen. Of course, this has to be done sensitively, and at the right point in the user's evaluation of the typeface. The specimen for Faction does that particularly well, seamlessly moving from detailed specification type content, over to the story of how the typeface came to be.
There are more specimens added this last week on the Type Specimen website. You can subscribe to the RSS feed for daily updates, or follow along on Twitter, if that takes your fancy.
A few interesting typography links
A few interesting things for you this week…
Font is an 'NFT based decentralised font market'. Firmly putting aside the ecological impact for a second – if you can – this new community is being built on some interesting ideas: transfer of ownership, earning interest from lending fonts, borrowing money against their font as a digital asset. Just a shame about the big, fat, planet-burning elephant in the room.
My favourite part of any release from Klim is their accompanying design information essay. This essay for their new release, Mānuka, is a deep insight into the the process.