Hello again! I'm Mark, and this is the Specimen Digest, a weekly typography newsletter.
I'm working on a project at the moment designing specimens for a lot of different languages and hitting the challenge of designing one template for everything. Like many foundries out there, it's much more cost-effective, more efficient for the user, if the design language is the same across all of the fonts in a library or collection. But then, there is this small niggle – this little splinter in my brain – saying I'm doing the type a disservice.
I've encountered this before when I worked for a very large type foundry and technology company. A one-shoe-fits all approach necessarily has many baked-in compromises. It could be said that design is just one big compromise. Whilst it's true that for large libraries it's almost impossible to produce individual designs tailored to the design, I do miss the opportunities that arise from a blank canvas.
So it got me thinking about art direction systems. By establishing a couple of variables within a system, you could produce different looking designs. Not radically different and tailored to the type, but just different enough. My friend Mark wrote about an experiment he did in programmatic art direction. That piece dented my brain a little bit. It's something I've had in the periphery of my design vision for a while now as well because – working closely with writers and editorial teams over the years – this is a real challenge. The world over we see journalists and editorial staff hacking CMS's because they want visual variety outside of templated designs.
Now, imaging applying that same thinking to a library of digital type specimens. Food for thought.
Until next week!
Mark
---
Specimens this week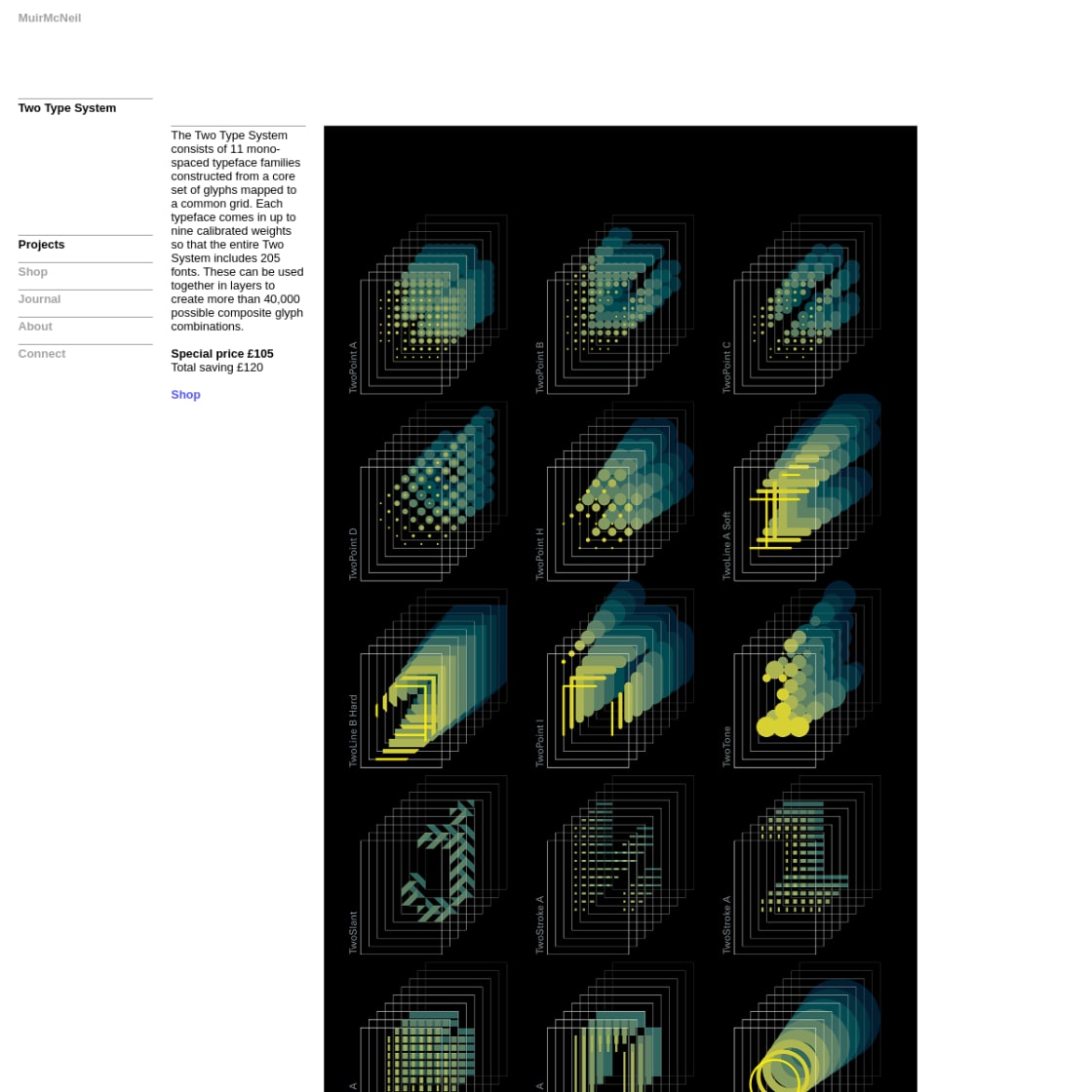 Two Type System I miss typefaces like this. Reminds me of FUSE. The specimen for Two System doesn't quite demonstrate the possibilities, though. I'd really appreciate a type tester and some example usage.
Mikro Super A specimen exclusively made up from stacked type testers for each weight and style. The vibrant colours work well against the large, heavy glyphs.
Utile Narrow A solid, functional library specimen from Kontour. Stacked type testers with variable length sample text give way to accordions of features and design story.
Spezia Serif Font A useful specimen from Luzi Type for Spezia Serif. Of particular note is the little variable font tester. This is great. A simple user interface offering axis sliders and italic toggles.
Climate crisis font An interesting specimen for an interesting idea. A font that degrades in weights that represent the degredation of the Artict sea ice from 1979 and that projected in 2050. Specimen wise, it has some nice touches.
There are more specimens added this last week on the Type Specimen website. You can subscribe to the RSS feed for daily updates, or follow along on Twitter, if that takes your fancy.
A few interesting typography links
A few interesting things for you this week…
A great post from Understanding Diacritics from Typetogether.
Tutorial 1 from Dinamo on using variable fonts on the web. Delivering on my critique from last week.
These are the world's most sustainable fonts: Arial and Times New Roman. In this time of outrageous environmental impact of things like crypto, this is an important time to consider why, perhaps, serving web fonts for everything might be having an undesirable impact.
A fascinating lecture from Copper Union on the origin of bold and fat typefaces.
Grilli Type continues the GT Academy with another thread of tweens and animations. No 15 looks in depth and triangular shapes.
Emigré have a new type specimen: Four Letter Words, Twenty Six Fonts.