Hello again! I'm Mark, and this is the Specimen Digest, a weekly typography newsletter.
As promised in last weeks newsletter, this week we're trying something a little new and taking a look back through the growing archives of specimens to bring you a few select ones. This week: Monospace.
I've a soft spot for monospace typefaces. As a digital designer, there are some days I'll spend all day writing HTML and CSS and staring at them all day long. For me, the ideal mono is one that just gets out of my way. It facilitates fast scanning, has enough air and space in the characters to help that. It's designed and built for purpose. The selection here has a couple of those typefaces designed specifically for coding environments and they both exercise constraint in their design. The specimens for JetBrains Mono and MonaLisa are a notable departure, too. Gone are the nods to print design and the graphic aesthetic of many specimens that are born from that media. These specimens are microsite for products – the product this time just happens to be a font. It's interesting to note the use of conventional design patterns – feature tables, centred content, rounded buttons – you know, all of those things that make everything look the same these days.
So, whilst the coding monospace fonts disappear into the background, the specimens aim to inform – all presented in a comfortable, if indistinguishable, aesthetic from all those other digital tools and services we use. Granted, it's a tricky job; straddling those lines between digital, a 'type aesthetic', print, and coding – all whilst trying to display the features of the typeface.
Over the coming months I'll be punctuating the usual weekly roundup with these archival brief lists. Hope you enjoy them!
Anyway. This time next week is, of course, the holiday break. I may get chance to do a newsletter, but really, your inboxes will be a deluge of junk, seasons greetings from brands you've barely heard of, and notifications of deliveries. Let's wait until the new year shall we?
Thanks for reading. Speak to you in 2021!
Mark
---
Specimens this week
JetBrains Mono Specimen as product website. There is just so much that can be learnt from how this website communicates the features of the typeface. From compelling layout, to informative animations, to a fantastic comparison table.
MonoLisa A beautifully functional typeface from FaceType. The specimen starts with an all too fleeting flash of an ascii Mona Lisa shown full screen. The muted colour ways mimic the intended environment for use: themes for the likes of Visual Studio Code. Moving into features, the specimen site is full of useful animations and diagrams intended to not only demonstrate MonaLisa's attributes but also to educate the audience. The new design pattern I thought was fabulous was the little tabbed code viewer where you could preview MonaLisa in various, syntax-highlighted, programming languages – from Javascript to Python.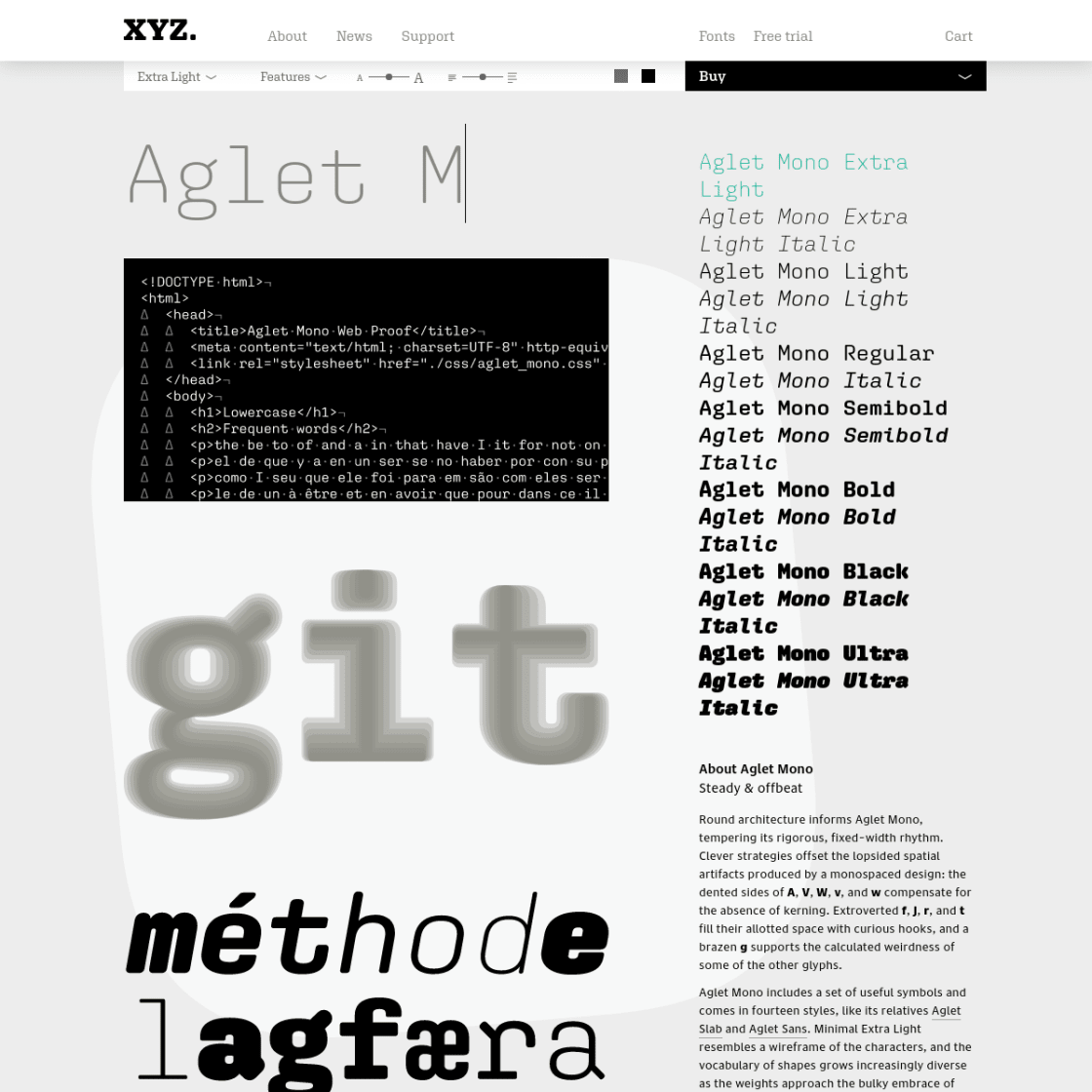 Aglet Mono The Aglet Mono specimen page opens with a type tester and a complete display of all weights available to buy. The real selling point of this specimen, though, are the contextual samples – showing aglet performing in a code environment.
Kale Sans A stark, brutalist specimen. Large type, grey and black, sightly set explanatory text sets the tone for Kale Mono.
Monotalic A quirky typeface with a conventional specimen layout. That said, I was drawn to the scale of the type on show here. Just huge glyphs in the waterfall show off the design to its full potential.
There are more specimens added this last week on the Type Specimen website. You can subscribe to the RSS feed for daily updates, or follow along on Twitter, if that takes your fancy.