Hello again! I'm Mark, and this is the Specimen Digest, a weekly typography newsletter.
The A6 is a road that runs straight through Stockport, a large town near where I grew up in the North of England. Walls. Wildlings. Winter is coming. All that. The A6 was a Roman road, I think. It's straight in parts, I'll tell you that. That seems to be the defining criteria for Roman roads in the UK. 'Is it straight?' 'Erm, yes'. 'Must be Roman, that'.
It was just off the A6, in a massive old Victorian house, that I had one of my first designer jobs working for a temping agency as a Mac Operator. Remember those? We would take a design – of sorts – from an art director and make it suitable to be printed. In truth, that could be a scribble on a bit of toilet roll. But we'd take that design and just make it work. Now, there is real skill in this. You have a finite amount of space – the paper, or ad slot in a publication – and a finite amount of content. You had to make it work. And quickly. Often no more than a few hours work; Mac operators from agencies are expensive.
I'd just been handed a scrap of A4 paper with an incomprehensible scribble, a folder with some content and negatives I had to scan, and asked to bring back the ad for approval before lunch. It was 10am. 'Ok, no problem'. The resulting ad was – even if I say so myself – pretty good. All the content went in no problem. I'd even managed to get some whitespace working to help the hierarchy. The typography degree was coming in handy after all.
'What's that!?', the designer said prodding his grubby fingers at my delicately arranged whitespace. 'Erm, some whitespace to help the type sta…'. 'That, lad, is empty space', he interrupted. 'Go and speak to the copywriter for some more words. Our clients pay for space to be filled'.
That was a commercial design lesson right there. And also a time I realised being a Mac operator working in direct mail probably wasn't for me. Direct mail has a cost. The blunt design critique aside, it still uses tons of paper, much of it unable to be recycled. The unending stream of paper through my letterbox has moved, gradually, to my inbox over the years. But there is still a cost. The clients are still paying for the words.
These past few years, I've found Thanksgiving a little strange in its pervasive nature. Slowly, it's starting to happen here. When I was younger – and, I mean, really just twenty years ago – Thanksgiving, and Black Friday, were just not a thing in the UK. Thanksgiving still isn't. Yet. But, boy, is Black Friday. So, on this – the most commercial of all holidays – I'm afraid I'm adding to your email load but, hopefully, with something you won't automatically delete along with all the other digital direct mail.
If you celebrated yesterday, Happy Thanksgiving!
Speak to you next week! Mark
---
Specimens this week
산돌구름 What struck me about this simple specimen – even though I can't read it – were the informative illustrations, and introductory animation style.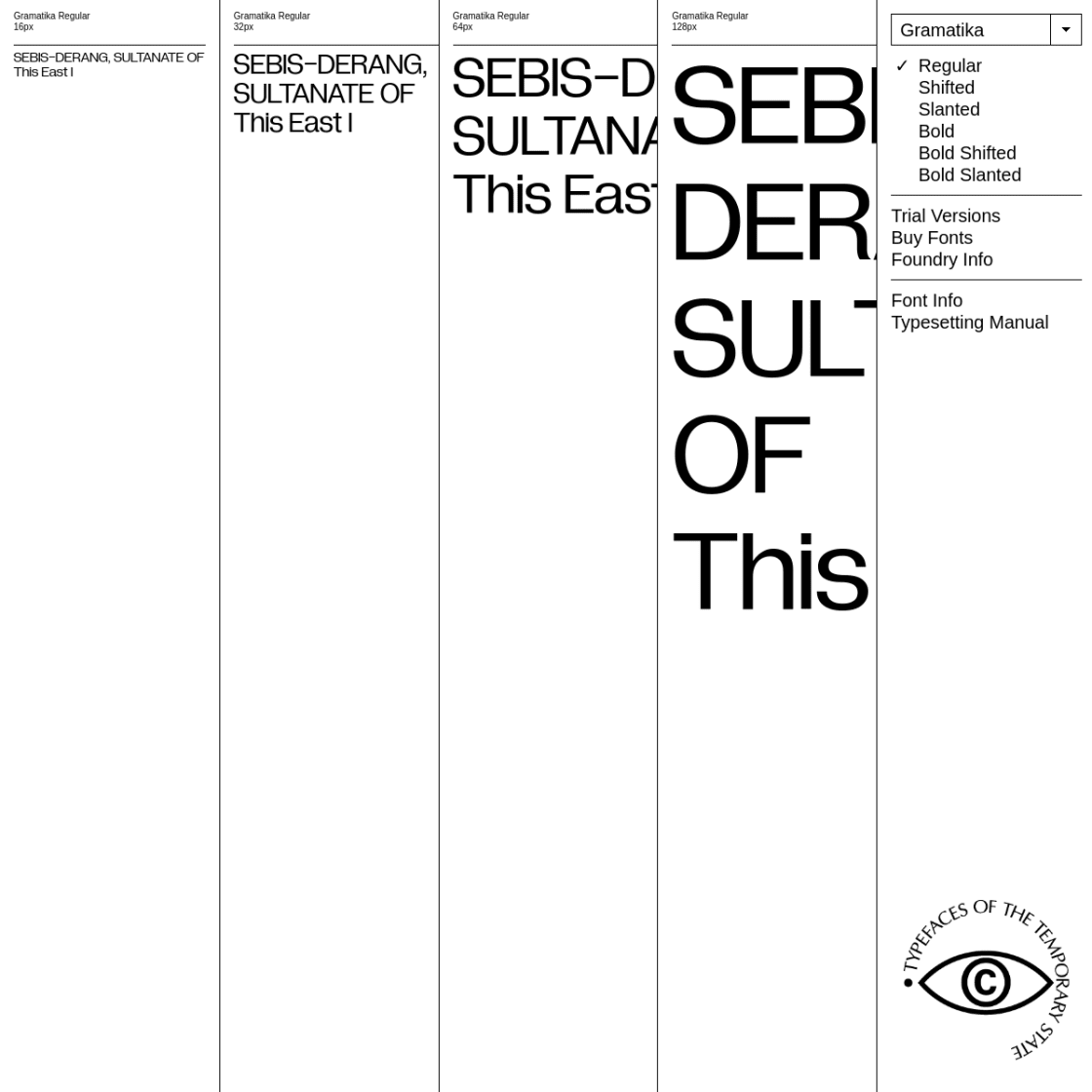 Gramatika A novel design for the specimen for Gramatika, a custom typeface project for V-A-C Foundation. A notable, fantastic addition is the typesetting guide. Unfortunately, it's a PDF. it would be great to turn that content into a valuable microsite, I'm sure.
Gestures A single typetester punctuated with animations, audio (which was a surprise), and exciting – and unextected – punctuations leading to a a specimen you experience rather than use.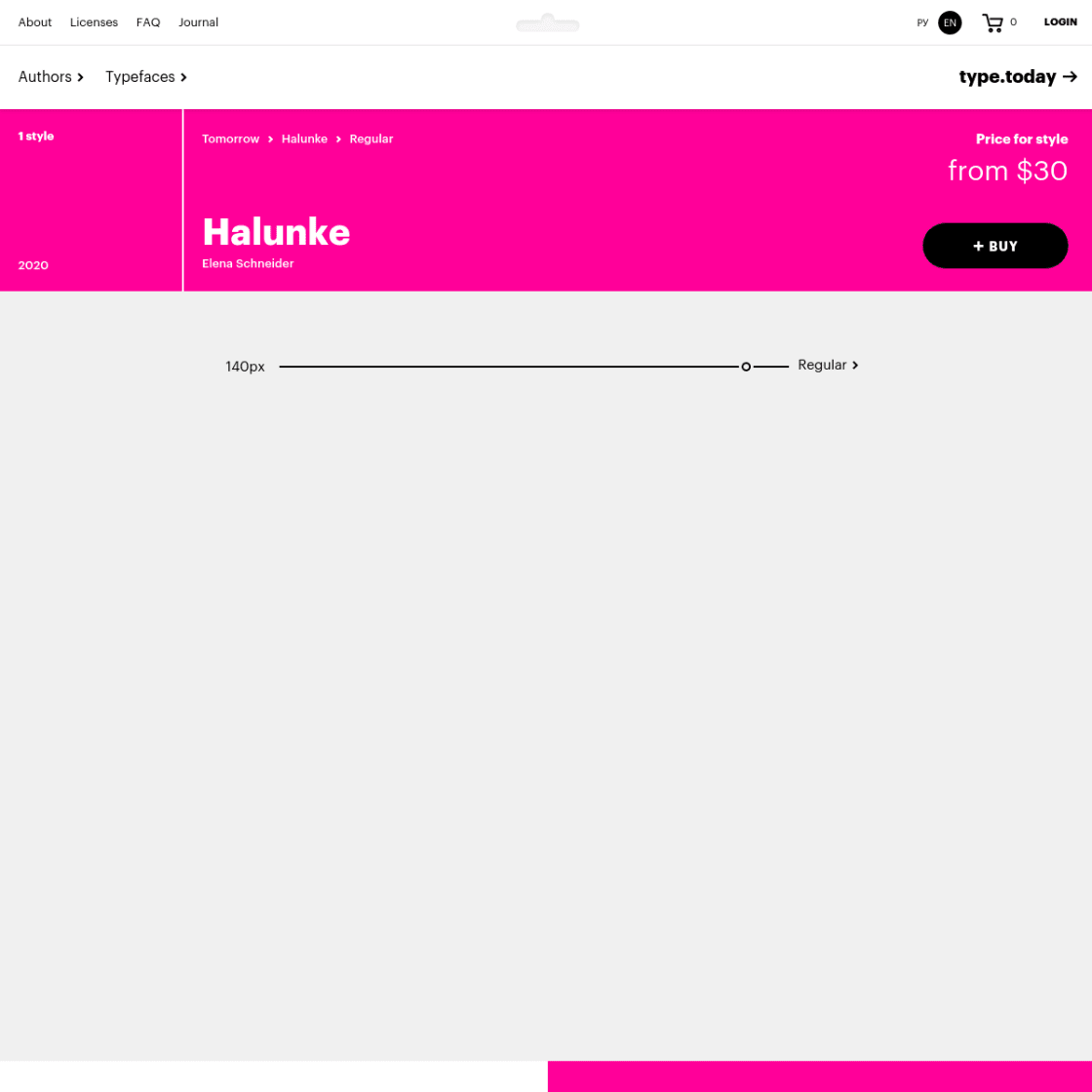 Halunke Regular Type Today's Tomorrow (!) specimens are great. Thoughtfully designed, leading with a type tester with a couple of controls, and just enough 'type in use' graphics to support the design rationale for the typeface. This specimen for Halunke Regular works well in this format.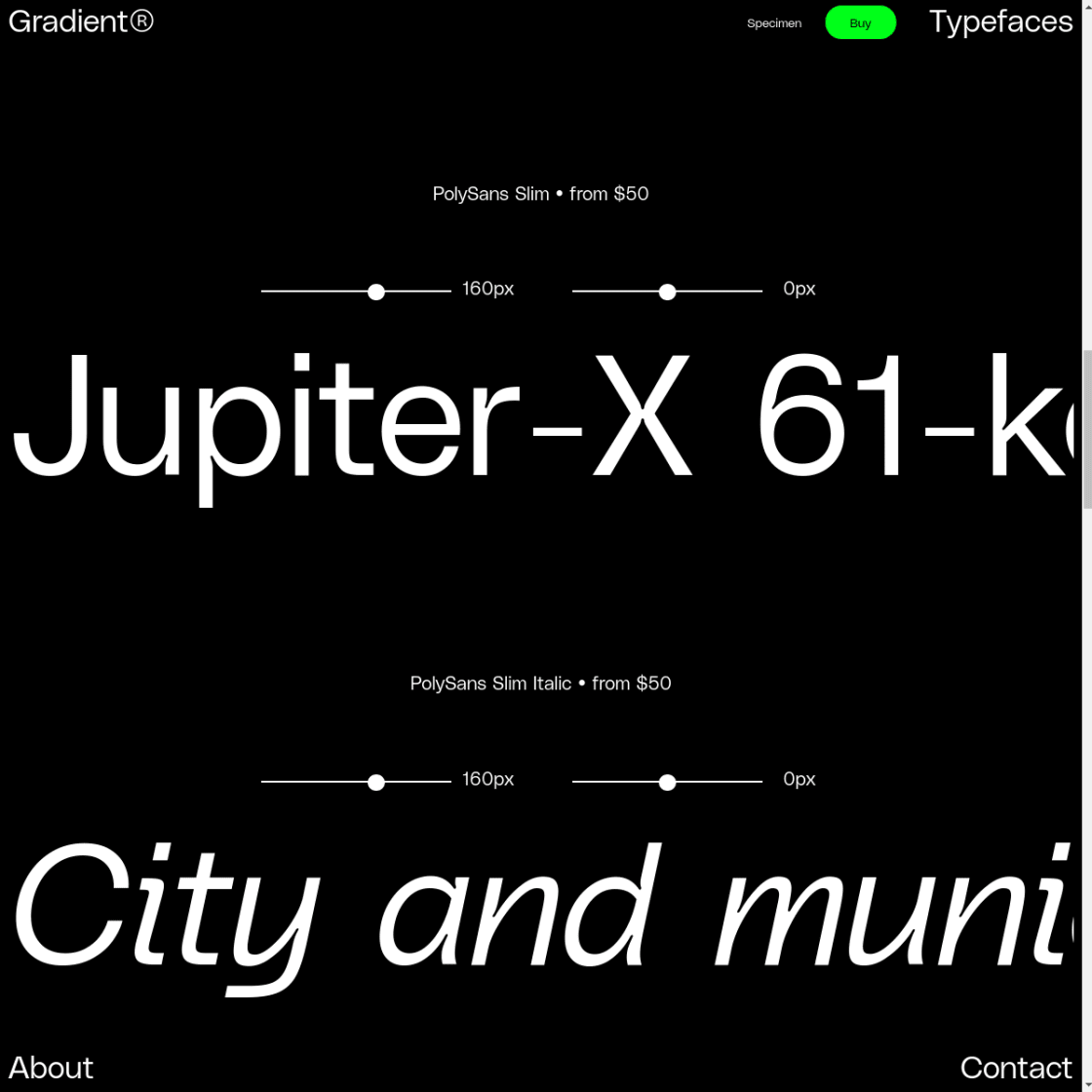 PolySans The striking thing about this specimen is the overall size of the type. Not just the headings, but ALL the type – from labels of the type testers, to the supporting UI copy.
There are more specimens added this last week on the Type Specimen website. You can subscribe to the RSS feed for daily updates, or follow along on Twitter, if that takes your fancy.
---
A few interesting typography links
A lovely interview with Kara Gordon, a type designer working at Commercial Type, over on Out of Print. Incidentally, why haven't I read Out of Print before!?
Unit Creations have a new Ed Fella book on Kickstarter. At the time of writing, it's 50%-ish towards it's goal. Worth a pledge if you ask me.
An excellent article: Gramatika: On Type Measurements, Hyphen Spacings and Other Minor Considerations. Gramatika is a custom typeface for the new visual identity of V-A-C Foundation (Moscow/Venice) designed by Roman Gornitsky. A great article on its own, but there is a gem in there: the typesetting manual – PDF.
A fabulous, in-depth piece on the sidenotes in web design. Brilliantly comprehensive.
This, for some reason, completely passed me by: Type Design Information Page. It's weird, because I have the internet age of about 113, so the fact I've not seen this that's been around almost as long is perplexing. Perhaps because it's type design focussed. Regardless, it's good. I lost a good few hours here.
Mass Driver Workshop has had an update to its Waterfall tool.