Hello again! I'm Mark, and this is the Specimen Digest, a weekly typography newsletter.
Everybody ok? That was Quite A Week, wasn't it? Let me momentarily distract you with some typefaces and specimens whilst your cortisol levels continue to decline…
Last week saw me release Specimen Builder and the reception has been fantastic! Thanks for all those who have reached out to me on social or directly. I can't wait to see what you build with it.
Lots planned for Specimen Builder in the future based on some often-mentioned requests. The tricky thing is to balance these additional features with what I learnt from the months of research I did. The aim is still to keep Specimen Builder is a minimal product – one that can get you up and running quickly, and deliver the most often used and requested features – but still allows for customisation and improvement.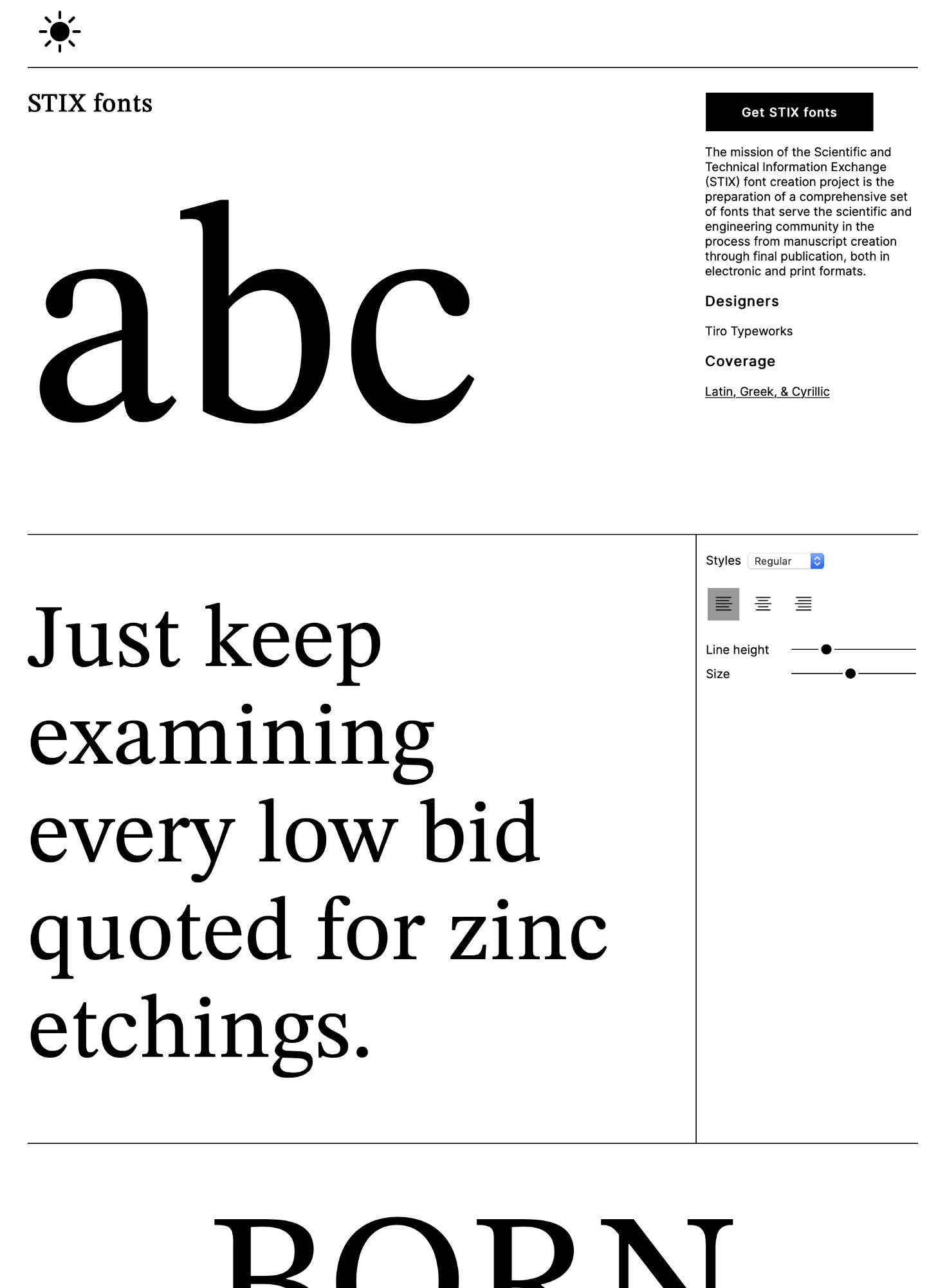 As I said last week, please head straight over to GitHub if you fancy giving it a try. Post an issue if you something isn't working for you, for you really need a feature or two. Or just drop me an email – you can reply to this newsletter – and let me know how you're getting on with it.
Speak to you next week! Mark
---
Specimens this week
Space Grotesk A striking and simple one-page specimen for Space Grotesk. Neatly displaying the variable weight axis with mouse-over animations, the specimen shows just opentype features and a comprehensive list of glyphs. No type tester, though, which is a shame.
Damien Display What's notable about this specimen for Damien Display is the controls for the type tester. Subtle, well designed controls in a control panel. But the notable thing is a 'buy now' button displayed in context.
Tick and Tock Just about as bold a design as you can get. Full screen, in-your-face graphics perfectly compliment Tick and Tock's design.
Visual A conventional digital specimen for an unusual typeface. Visual is a semi-pixel font inspired by topography. The specimen leads with a quick explanation before showing some type in use.
There are more specimens added this last week on the Type Specimen website. You can subscribe to the RSS feed for daily updates, or follow along on Twitter, if that takes your fancy.
---
A few interesting typography links
Google has a great introductory article on variable fonts. Even if you're familiar with the font technology, it's worth a read.
Great video on Times New Roman
How did Times New Roman become the default typeface we all use? Born out of anger, selected for its economics, and adopted because of its accessibility. In this video, we dive into the history of the Times New Roman typeface, how it came to be, and why is it such a staple from congress to college.