Hello again! I'm Mark, and this is the Specimen Digest, a weekly typography newsletter.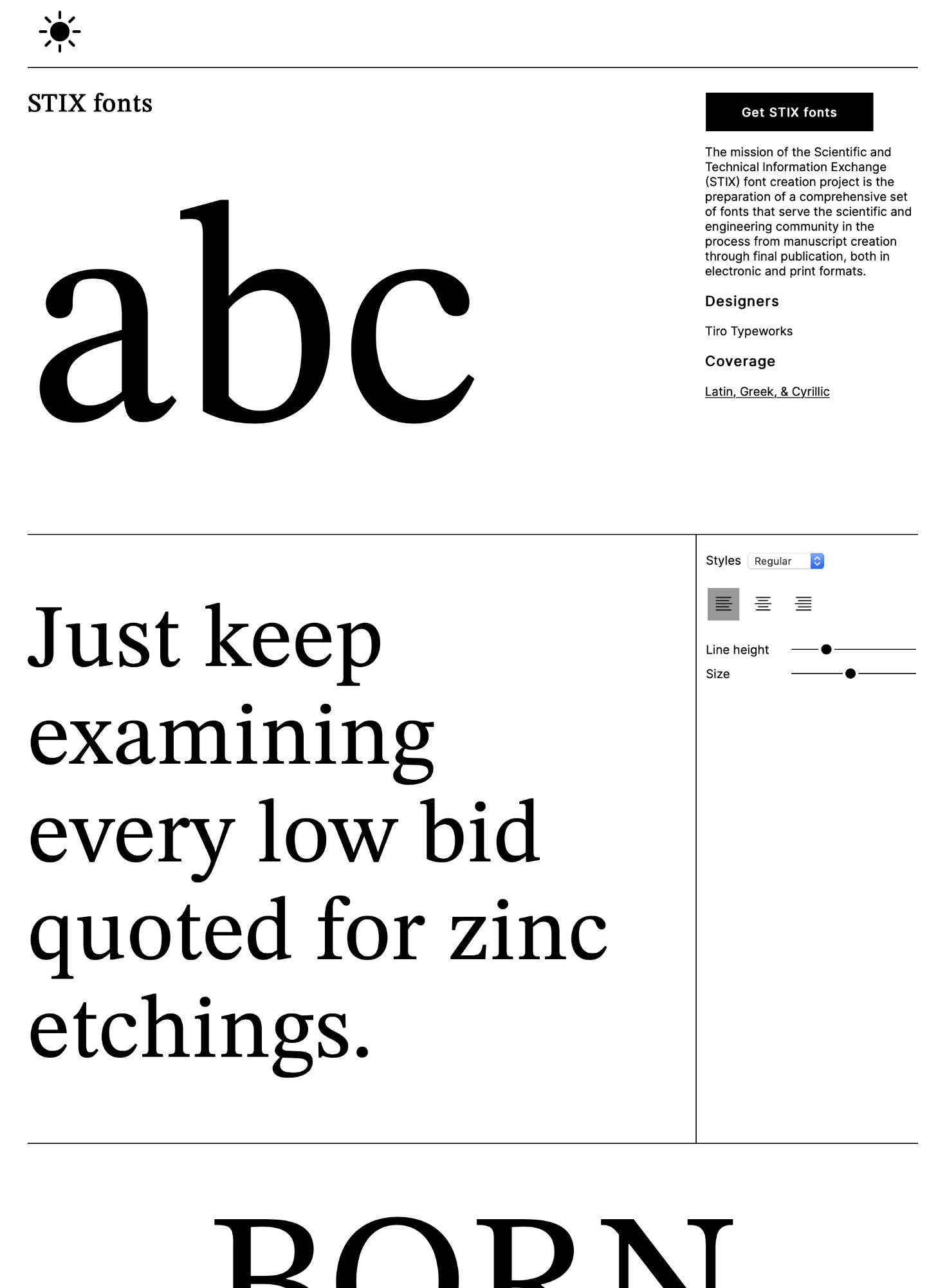 Today, I'm pleased to announce the release of Specimen Builder. You can read more about it here, or head straight over to GitHub if you fancy giving it a try.
As well as a digital builder, today I'm releasing a template for building print-based specimens. Again, you can head over to GitHub for those too.
So why design and build these things?
Throughout my research in the early phase on this project it became clear that designing and producing type specimens is costly and laborious for foundries, type designers and font creators. For those people who self-publish their fonts, there is a considerable technical hurdle to overcome to produce a type specimen that is useful and attractive. One that includes a comprehensive type tester and a full list of all glyphs. This is why we see so many type specimens that are stacked pictures of SVG graphics. It's easier to produce, and easier to control. Well, I wanted to help there.
First and foremost, the specimens this builder produces are a base on which to build if you want to. But you don't have to. It'll get you from nothing to something for you to publish your font in confidence. The design and user experience is in direct response to the user research I conducted.
Let me walk you through a few features:
Fast!. Thanks to Eleventy, this is quick. My benchmark was I wanted someone to be able to build a new specimen in five minutes or less providing they had the font files and the content to hand. I think it can be done in about three minutes.
Variable font support. In addition to supporting multiple woff2 files, it supports variable fonts and dynamically builds the type tester from the axes.
Comprehensive, categorised glyphset. The builder analyses the font files and produces a comprehensive list of all glyphs.
Language support and reading direction. It supports left to right, right to left, top to bottom, and bottom to top reading directions with a simple change of configuration. It also supports complex scripts and prints all glyphs in the font regardless of categorisation.
Dark mode and more. Of course, there's a dark mode. It's responsive too.
A big shout out to my co-creators at Kabisa for their amazing work on Specimen Skeleton – the Eleventy-based tooling that powers Specimen Builder.
Have a look. Let me know how you find it. Create some issues in the repo. Please suggest some improvements, or even contribute (that'd be cool!).
Speak to you next week! Mark
---
Specimens this week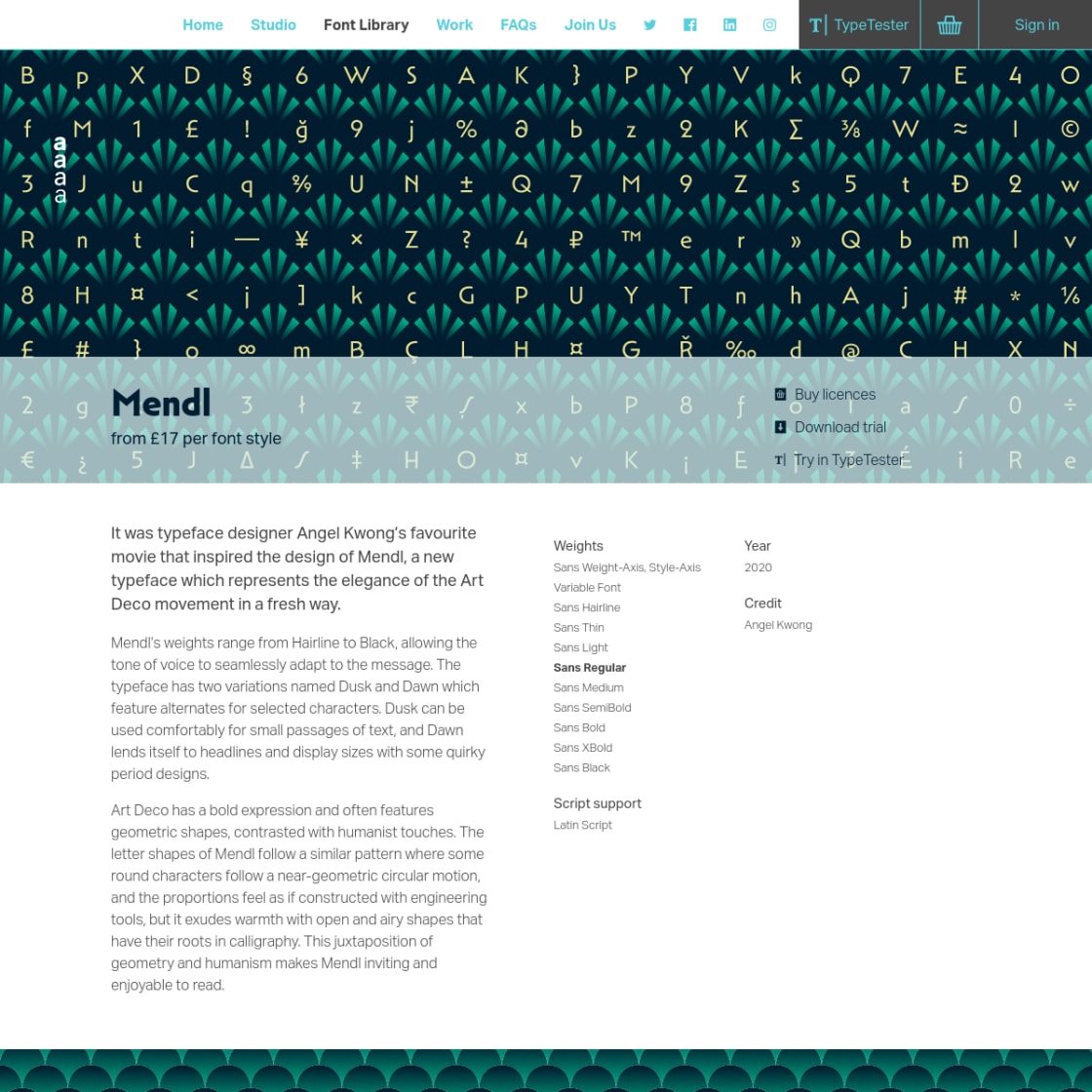 Mendl The latest release from Dalton Maag does not disappoint. Mendl is a typeface representative of the the Art Deco movement and this feeling is evident across the artwork on the specimen.
Aldwych Extended Following the recent trend of multiple, stacked typesetters, the specimen for Aldwych Extended presents the typeface in stacked white on black background with elegant typesetter controls.
F37 Beckett A great specimen with some lovely, subtle graphic design. Black and white illustrations set against a peachy monotone colour palette is punctuated by the usual useful functionality such as type testers and glyph tables.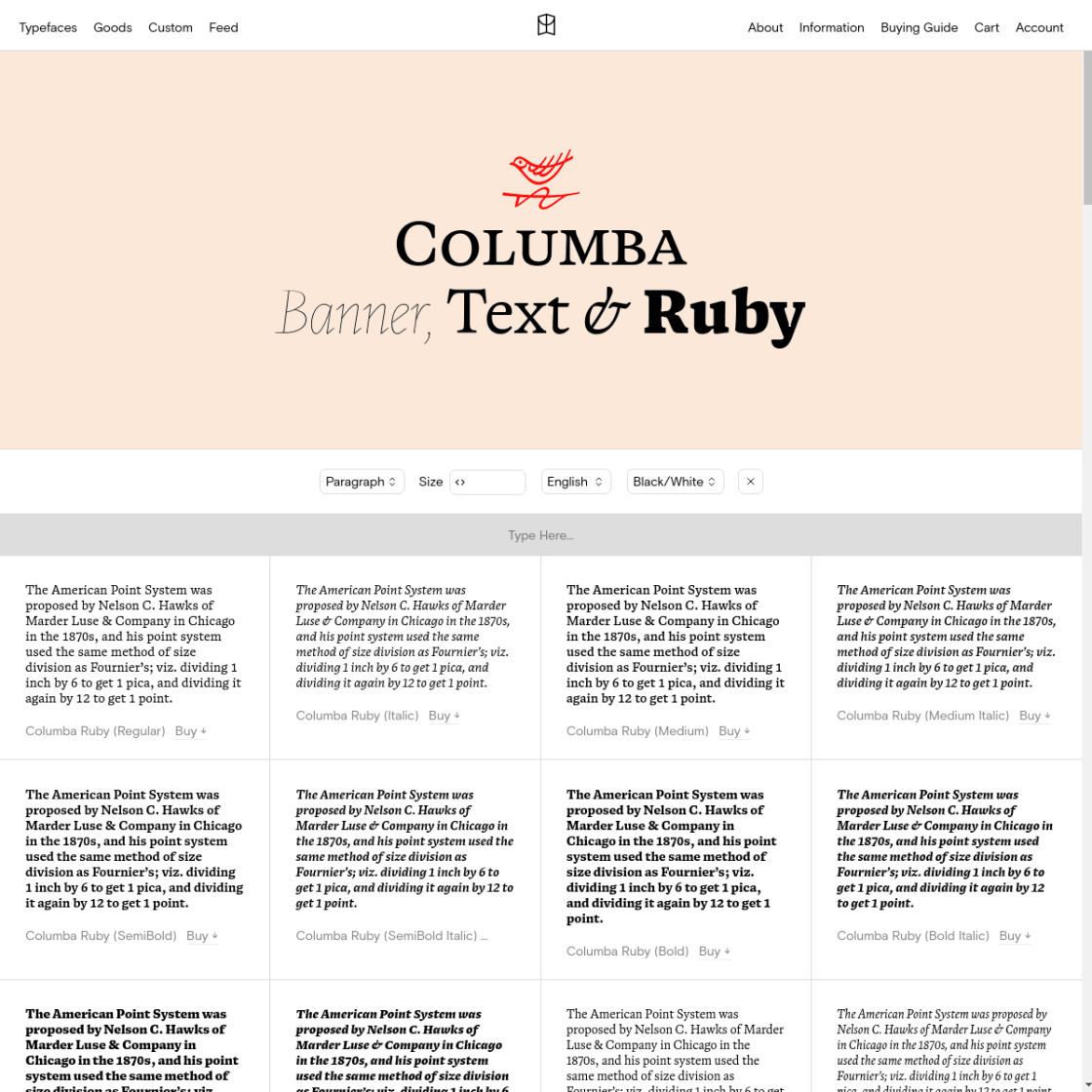 Columba This is a good looking specimen for Columba from Colophon Foundry. Beautifully typeset, vertically stacked containers of type testers. The use of red is used throughout to punctuate the design.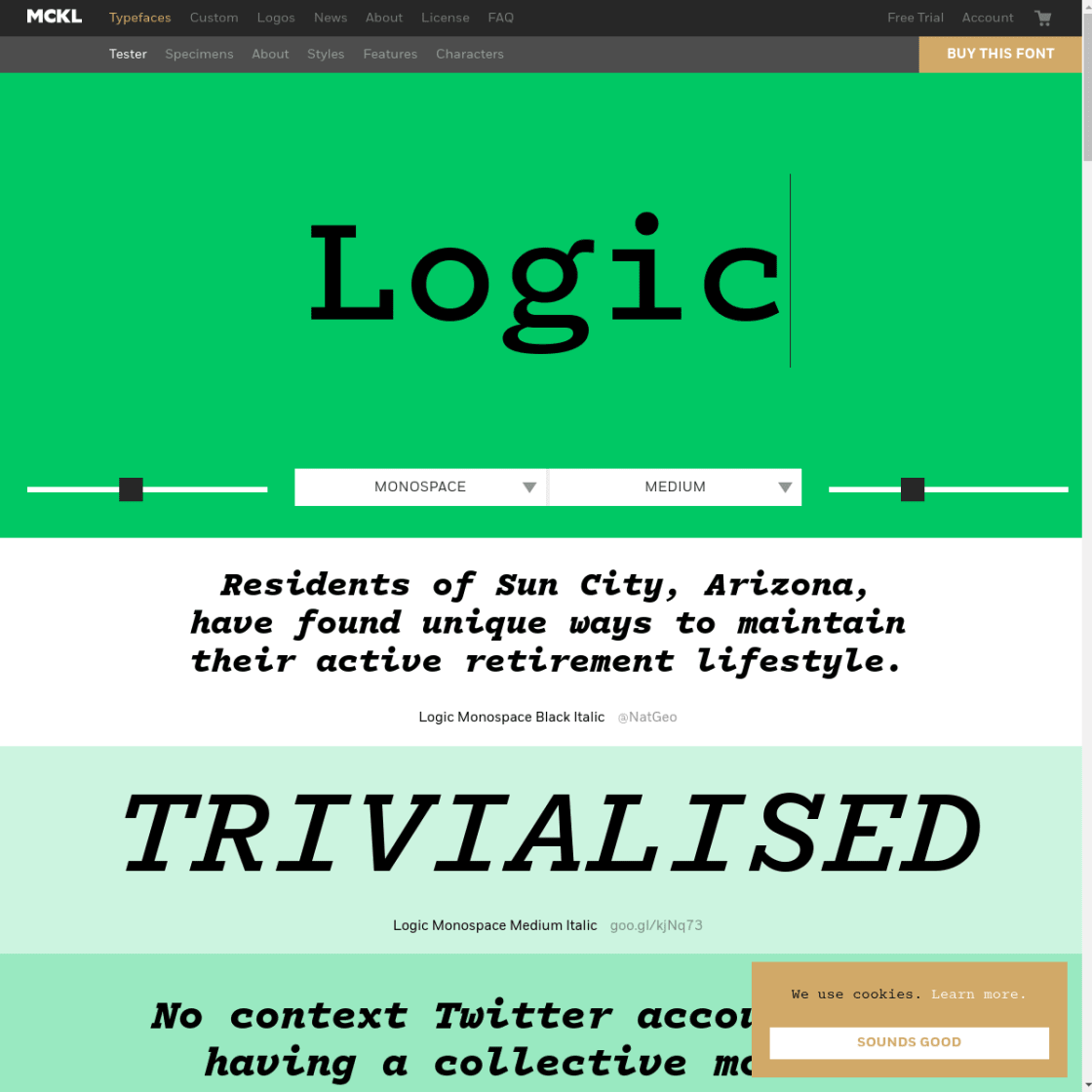 Logic Monospace A bold, graphic appearance for Logic Monospace is matched by the monotone colour palette and graphic treatment of the typesetter controls. The graduated panels of sample text work particularly well at smoothing to the visual journey for the eye between high contrast areas.
There are more specimens added this last week on the Type Specimen website. You can subscribe to the RSS feed for daily updates, or follow along on Twitter, if that takes your fancy.
---
A few interesting typography links
An excellent walk through of CSS Clamp, and how it relates to typographic scales, by Trys Mudford
Erm. How did I miss this podcast from The League of Moveable Type!?
Not typography at all really, but this is a cool site to create boxes from all kinds of templates you can print yourself.
Weird. And rather brilliant. Karrik: The Game is an interactive fiction story based on… erm… a typeface.
A rather nifty proof generator from Grilli Type.
Here's a super website for NN Allegra and NN Alena and an accompanying film.