Hello again! I'm Mark, and this is the Specimen Digest, a weekly typography newsletter.
I seem to be spending some time recently reflecting on my relationship with typography and how it has fitted in my life over the last few decades. Maybe it's my age, or this unending pandemic. Maybe it's just autumn. Regardless, today, I'm reminded of a trip I took to Leipzig in Germany in 2000.
Arriving in Leipzig I was struck by two things: how great the airport was, and how quiet the city was. Leipzig seemed to be a city built for 3 million people and only a sixth of that lived there. Large open spaces, tree lined avenues, set against the backdrop of crumbling architecture, Leipzig seemed to be a city of two halves. It's a shame I didn't see much of it, though. I was stuck inside for most of the time attending my first typography conference: ATypeI 2000.
There I was. A young web designer only three years after completing my typography degree, attending a full-on, nerdy type conference. Within the first ten minutes of heated discussions about OpenType I knew I was out of my depth. But I was also energised by the raw passion of the attendees and speakers. A little scary, perhaps, but the type industry is a welcoming bunch.
The web design community used to be like this. In 2005, the Web Standards community had really gathered steam. Blogging was at its height. Twitter didn't exist yet, and all our conversations were either in person or through blog comments or articles. The discourse was rich. The work exciting. The industry was full of energy. It's not like that anymore. For the longest time, I've been trying to figure out why and, with my recent return to the type community through this project, I think I now know.
Type design and typography, however commercialised, has one foot firmly rooted in the craft and the intelligent critique and conversation surrounding it. This is important for design practice. It saddens me that whilst this continues to thrive in the type industry, it is withering in the web design community. Big tech is killing it along with everything else.
Conferences like ATypI are critically important to facilitate and galvanise these discussions. I see this more clearly than ever after the heavy over-saturation and commercialisation of web design conferences. Next week, AtypI – like many conferences this year and early next – will be conducted remotely. For the first time in 20 years, I'll be attending and I can't wait. Not as a type designer, or a graphic designer, but as a wide-eyed web designer. Just as I did twenty years ago.
If you have time, buy a ticket, and I'll see you there.
Speak to you next week! Mark
---
Specimens this week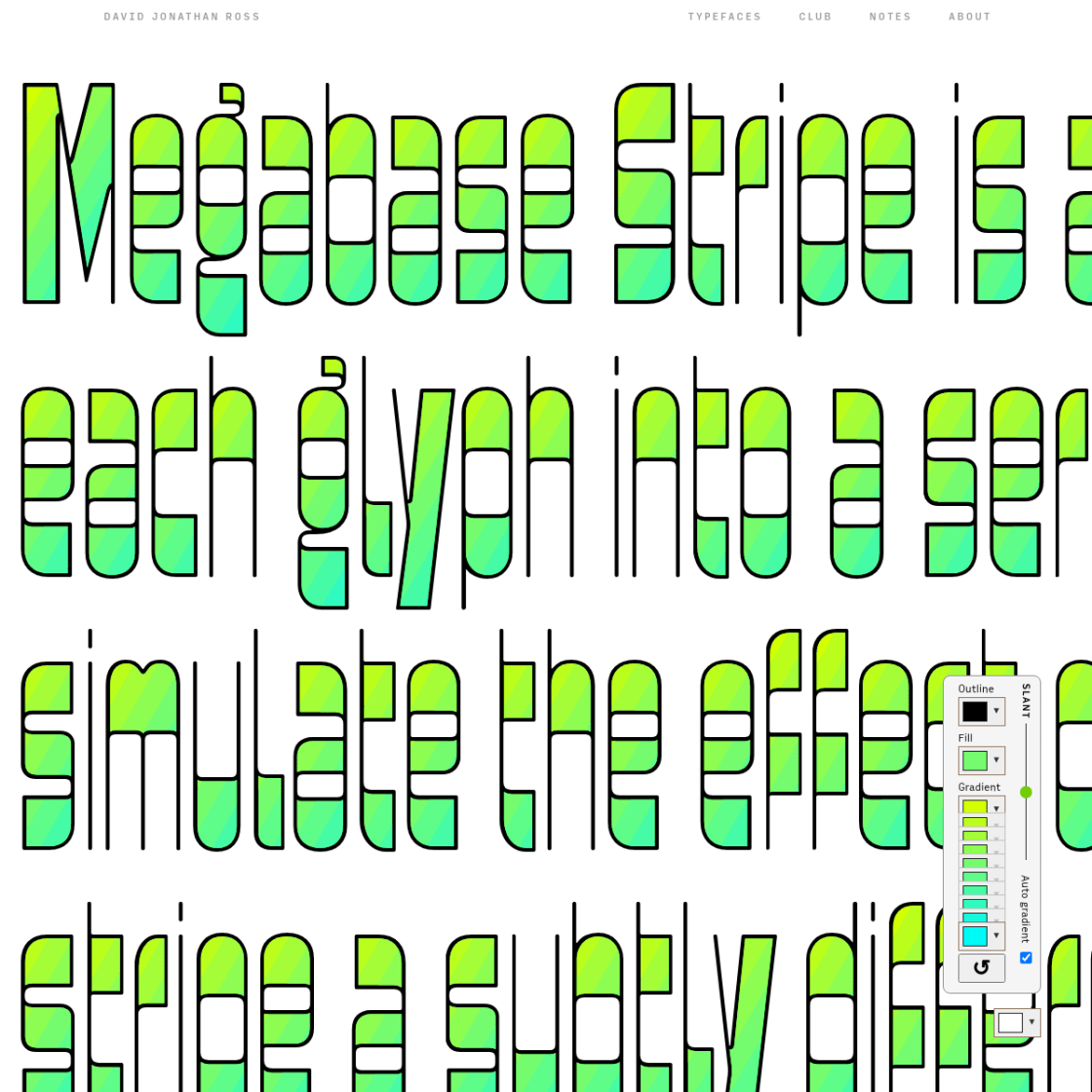 Megabase Stripe A brilliant single page specimen for an experimental version of Megabase that allows the user to create colour gradients. It includes simple UI controls for changing the slant axis, as well as each of the colour steps in the gradient.
Handjet An amazing experimental variable font, the specimen for Handset tries to articulate the huge range of options available to the user. The discretionary ligatures are such a delight.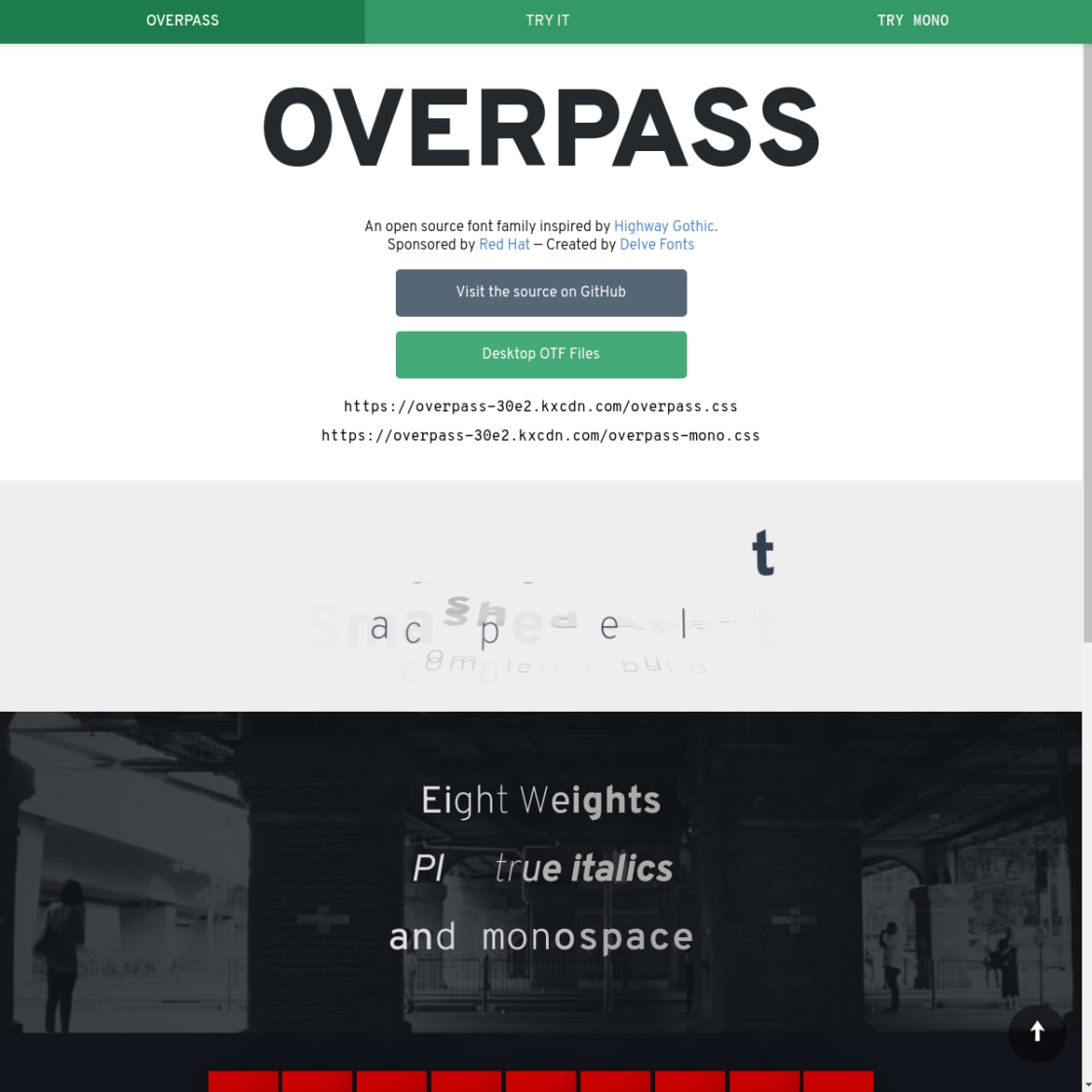 Overpass An unusual specimen / microsite. Overpass, sponsored by Red Hat, is inspired by Highway Gothic. The specimen is microsite where all of the useful information is in sections called 'try it'. The 'monospace' section sticks out alone in the information architecture. Still, this aside, it's a nice typeface.
Atkinson Hyperlegible Font from the Braille Institute A font specimen page that reads exactly like a software landing page. In fact, really, the only piece of content of benefit for typographic evaluation is the illustrations of distinctive letterforms and exaggerated forms.
Atkinson Okaso This is a cool variable font with a stretch axis. Seen quite often in Arabic, this has a quirky result when applied to Latin. But Okaso pulls it off. The specimen is a stack of type testers in simple colour palettes. But it really shows off the type's best features.
There are more specimens added this last week on the Type Specimen website. You can subscribe to the RSS feed for daily updates, or follow along on Twitter, if that takes your fancy.
---
A few interesting typography links
Nüshu: China's secret remake-only language. An amazing story of this endangered language and its fight for survival.
Aksharamukha. This is a very handy translation utility. For type specimens, it's particularly useful in that it has a bunch of sample texts translated across the 80 or so scripts.
The Map. A cool little film from Gary Hustwit about the redesign of the NY subway map.
Recent open source typefaces. A very handy spreadsheet!
Getting started in Type Design (and possible next steps). I may have posted this in the past, but this is a fantastic primer on how and where to get started in type design. One of these days…