Hello again! I'm Mark, and this is the Specimen Digest, a weekly typography newsletter.
Issue 15! I feel like I need to mark the occasion. Thirty seven years ago we entered lock down in the UK. The schools shut. And I started work on this project. Today: schools are going back, the UK government has embarked on a cringey campaign of trying to get people commuting on stinky trains and buying over-priced sandwiches again. Another change. Another u-turn. The latent stress and anxiety bubbles to the surface again. Of course, pandemics are serious business, but this week I'd like us to just spend a few minutes today thinking about the fun in our work and where we might find those opportunities. A much-needed moment of distraction. Let's look at some lovely typefaces shall we?
Speak to you next week! Mark
---
Making time for play
Display Typefaces 101 is an article / recap of a talk given by Maria Doreuli at the Fontstand Conference in 2019. I love this article. For many graphic designers – myself included – the gateway drug for drawing typefaces are display faces but they are often rejected by the type design profession with a sneer and a 'pffft'. Maria writes:
What I believe in is that it is display fonts that are engines of progress. They inspire and push you to experiment more and can be a good premise to create new text fonts. So it's important to get rid of all the prejudices and draw more of display typefaces.
She continues…
We hear way too often that typefaces should solve problems, and by hearing that we assume that typefaces always need to have a particular application. But fonts also introduce emotion to typography—another important aspect worth exploring and working on.
This really struck a chord with me. How often do we hear that any design problem has to be a solution to a problem? In some way sidestepping any emotion associated with our work because, why? Because emotions have no place in design? Because we must prioritise the rational ahead of any feelings we may have about our work? I'm not sure about you, but I got into design because I wanted to make beautiful things. Things that made me feel something.
The danger of working in commercial design is that, by always focussing on the problem solving, the rational, process-driven, money-making aspect of our work, our creative muscles – our muscles of play and emotion – those we honed as young designers, are left to atrophy.
Reading this article form Maria made me sit up and realise what I've been thinking for a while. I need to make time for play in my work. Time to experiment. Time to just do something for the sheer joy of it.
---
Specimens this week
Out of the Dark There is a lot to like about this website for Out of the Dark. The whole thing is a specimen, with innovative, exploratory modes of navigation and discovery.
True Sans An interesting specimen with a large setting of a random question posed to the user. As a type specimen, there is plenty missing from this: glyphs, features, a more conventional type tester. But as a digital experience, it is noteworthy.
NPGヱナ This specimen from Nipponia demonstrates how difficult it is to make webfont specimens for CJK fonts without some kind of dynamic subsetting. What is striking is the illustration and the simple information architecture.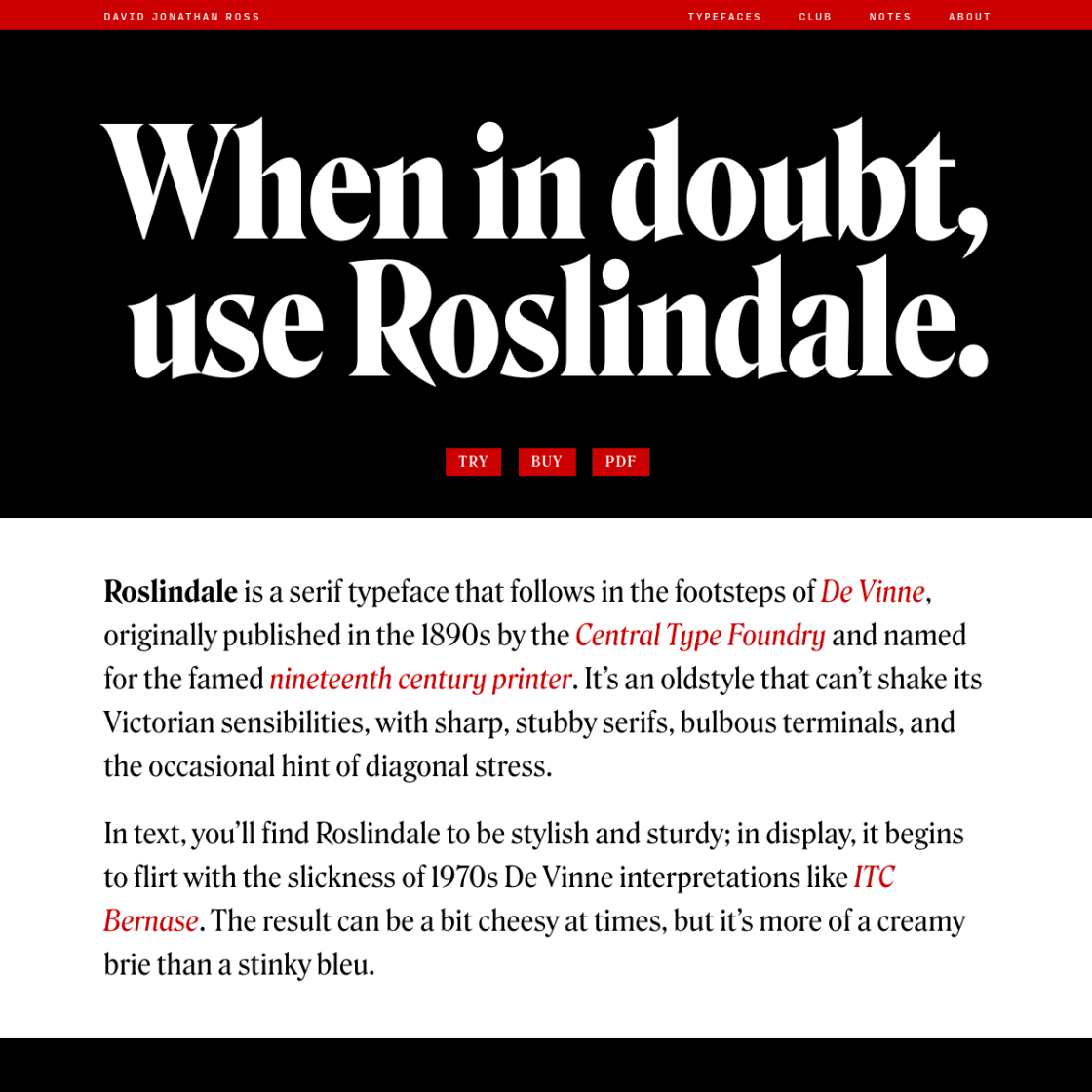 Roslindale Another solid specimen from David Jonathan Ross. The Rosindale specimen opens with single words set in large bold weights before drilling down into more detail and origin content from David.
Jakarta Sans A simple specimen for a workhorse of a typeface. Jakarta Sans, an Open-source font for Jakarta city has some really interesting alternates that, when combined, take Jakarta Sans in a really interesting direction.
There are more specimens added this last week on the Type Specimen website. You can subscribe to the RSS feed for daily updates, or follow along on Twitter, if that takes your fancy.
---
A few interesting typography links
Why this font is everywhere. What a great video!
A note about clamp. For those of us who are continually wrangling with fluid, adaptive typography, this is a useful note about using the CSS property 'clamp()'.
Norgram, perhaps one of the most exciting design agencies at the moment, has just redesigned their website. Some lovely work.