Hello again! I'm Mark, and this is the Specimen Digest, a weekly typography newsletter. Autumn is definitely making an appearance here in the UK this week, and with it an uptick in new projects, new typefaces, and some lovely specimens.
Speak to you next week! Mark
---
Getting lost down a Signifier rabbit hole
This week saw the release of Signifier from Klim Type Foundry.
A bold, colourful specimen displaying Signifer's brutal curves and chopped serifs. I was eagerly anticipating the specimen given the quality of the other specimens on offer. And it doesn't disappoint.
This is an efficient specimen. Providing the user with lots of opportunity to see the typeface at various sizes, weights, and settings. I know, from the research I've done over the past few months, that this is critical for designers to evaluate it for their needs.
What caught my eye this week, though, was the design information for Signifier – a lengthy accompanying article detailing the inspiration, the process, and the outcomes of designing Signifier by designer, Kris Sowersby. This fantastic article sent me off in a myriad of different rabbit holes of referenced material; from the wonderful punch cutting film to the transcript of an architecture talk on Brutalism.
From Kris' Twitter, I was sent spiralling off to Hacker News – expecting the worst, but thankful to read a reasonable discussion with considered critique. From there, over to Tobias Frere-Jones to read his pieces on Typeface Mechanics 001, and 002. From there, I read again his wonderful blog post on Scrambled Eggs and Serifs.
This journey reminded me of what I said a few weeks ago in this newsletter about how specimens are not single objects anymore. At their heart is an object – a tool with which designers can evaluate a typeface – but surrounding this object are stories. Stories of inspiration, creation, craft. And those stories feed into larger topics, in this case Brutalism and what does it mean to design with the material of a digital age.
Typefaces are brands. Brands are stories. The specimen is part of that story, but only a small part. Designers and foundries need to spend much more time around the specimen, crafting the stories, to create a compelling brand. In recent times, not many do it better than Klim Type Foundry.
---
Specimens this week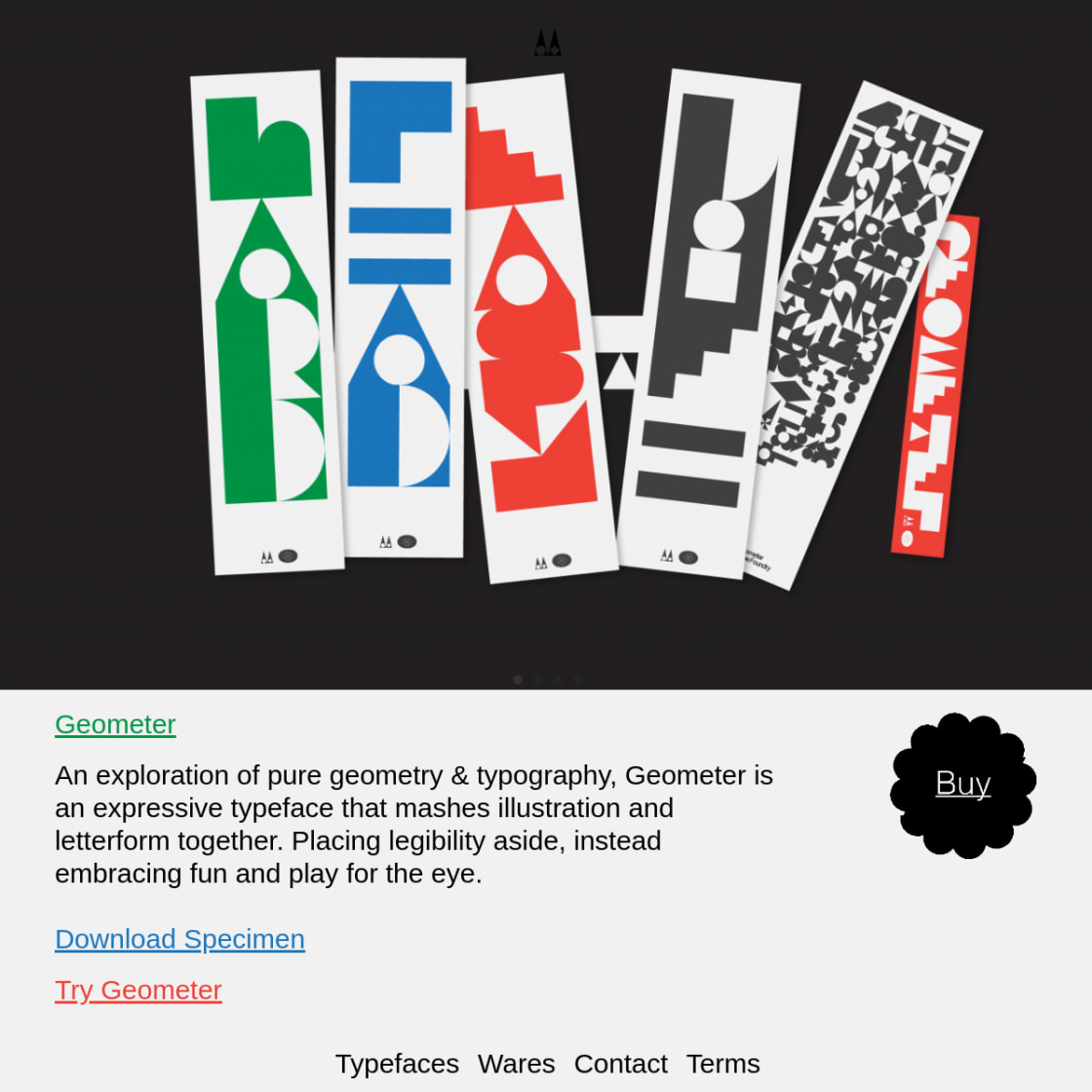 Geometer An exploration of pure geometry & typography, the specimen for Geometer is fairly conventional but shows the typeface's best features well.
Riviera Bold, with a flash of colour revealed on scroll, the specimen for Riviera starts with an impactful visual statement. The introduction of the colourways is then followed through the design for calls to action and coloured panels.
Crack Grotesk A fun specimen with cute music-related illustrations demonstrate the versatility of Crack Grotesk in an engaging way. Panel and panel of explanatory design notes walk the user through the various features.
Principal A mosaic of typetesters (often with individual words) are punctuated with wireframe illustrations of geometric forms. A conventional, but with enough unique touches, from TightType.
Elfreth Everybody loves a good Blackletter. And this is a good one! The specimen reads as an article punctuated with images of inspiration and typeface development.
There are more specimens added this last week on the Type Specimen website. You can subscribe to the RSS feed for daily updates, or follow along on Twitter, if that takes your fancy.
---
A few interesting typography links
John Boardley takes us through the origin and evolution of the drop cap.
Typography is impossible. Marcin Wichary is not wrong, there. A few years old now, but a fantastic, detailed explanation of why so much in detailed typography is about optical alignment. A human eye. It's why so much web-based typography is, well, a little bit rubbish. Good typography is hard to program and systemise.
Occasionally, I see a website design that makes me sit up and notice. This week, I saw Tablet Magazine. On the face of it, a fairly average looking, editorially focussed magazine layout. Digging a bit further and there are some lovely touches, some big bold diversions from convention, and some nifty, tiny details. Worth a look.