Hello again! I'm Mark, and this is the Specimen Digest, a weekly typography newsletter. Firstly, as I close off the top tasks survey, my thanks to all that completed it. As I continue to be knee-deep in analysis of the results, I can say that in the next few weeks I'll be publishing a report(?), or white paper(?) – those things sound so boring and B2B corporate! I'll be publishing a thing that lets you know the insights. I'm hopeful this will be useful for foundries and type designers to produce specimens in line with people's needs.
In the meantime, please enjoy this weeks round-up of new specimens.
Speak to you next week! Mark
---
JetBrains Mono
Over the past few years, I've looked at a lot of digital type specimens. Hundreds. Maybe even into the thousands. Mostly, they follow similar conventions; design patterns we see over and over in print and then transposed into digital form.
Occasionally I see a specimen, or typeface micro site, that goes against the grain or supports the typeface in a different way. JetBrains Mono is one of these.
JetBrains is a company that makes products for code: IDE's, plugins for existing software, developer tooling. They've made an open source monospace font to sit alongside their product offering. Makes sense, right? They embed it as a default in their product, and with doing that, further embed their brand.
The micro site for JetBrains Mono is amongst the most effective and interesting I've seen and I think it's for one simple reason: it's been designed by product designers, not type designers or graphic designers. This is a website designed to sell you the typeface. It takes modern product website conventions and aesthetics and applies them to a typeface.
Let's take a look at some of the notable parts of the content and design.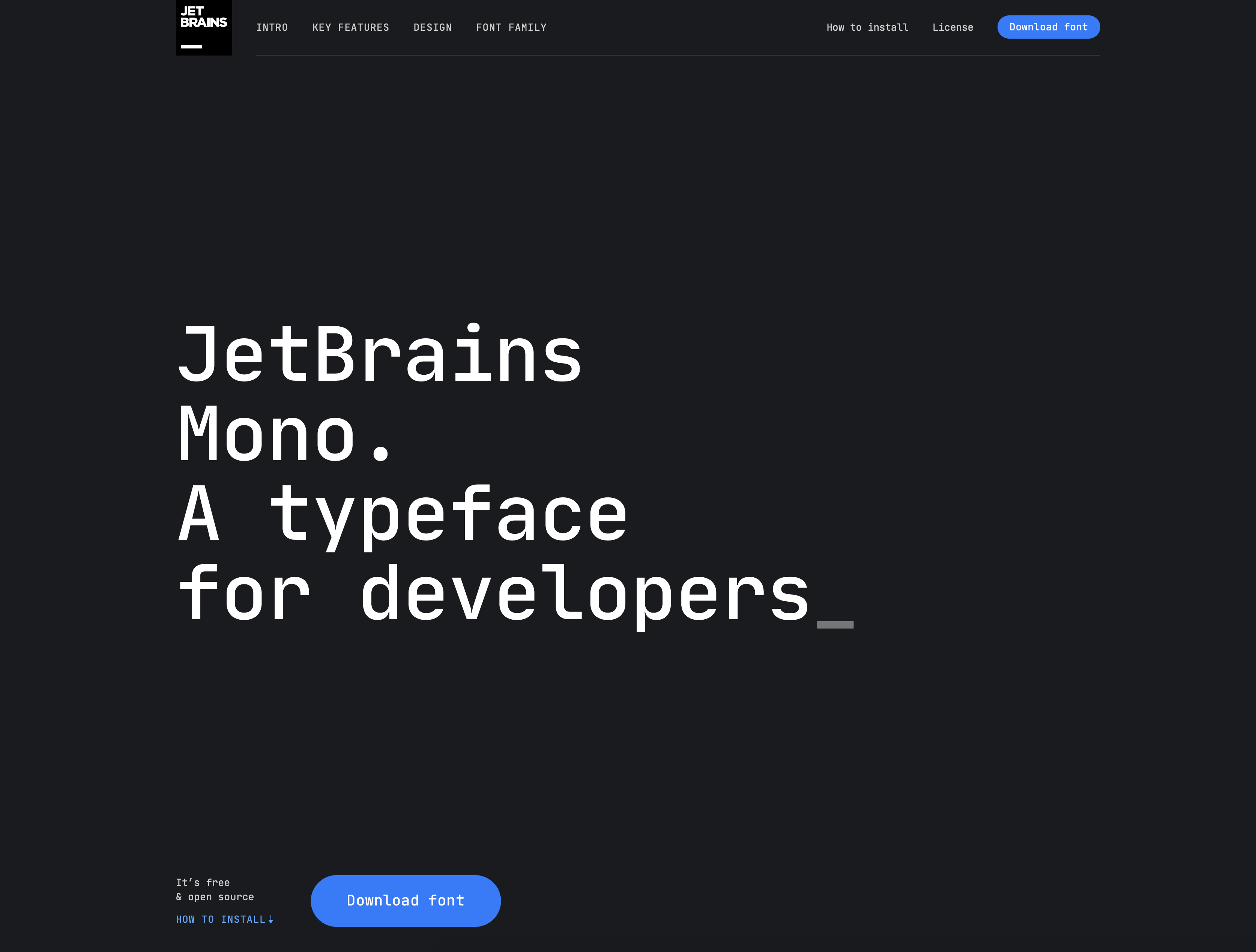 First and foremost, there is no doubt that this is a typeface available for free. Large calls to action in conventional positions, and a simple positioning statement.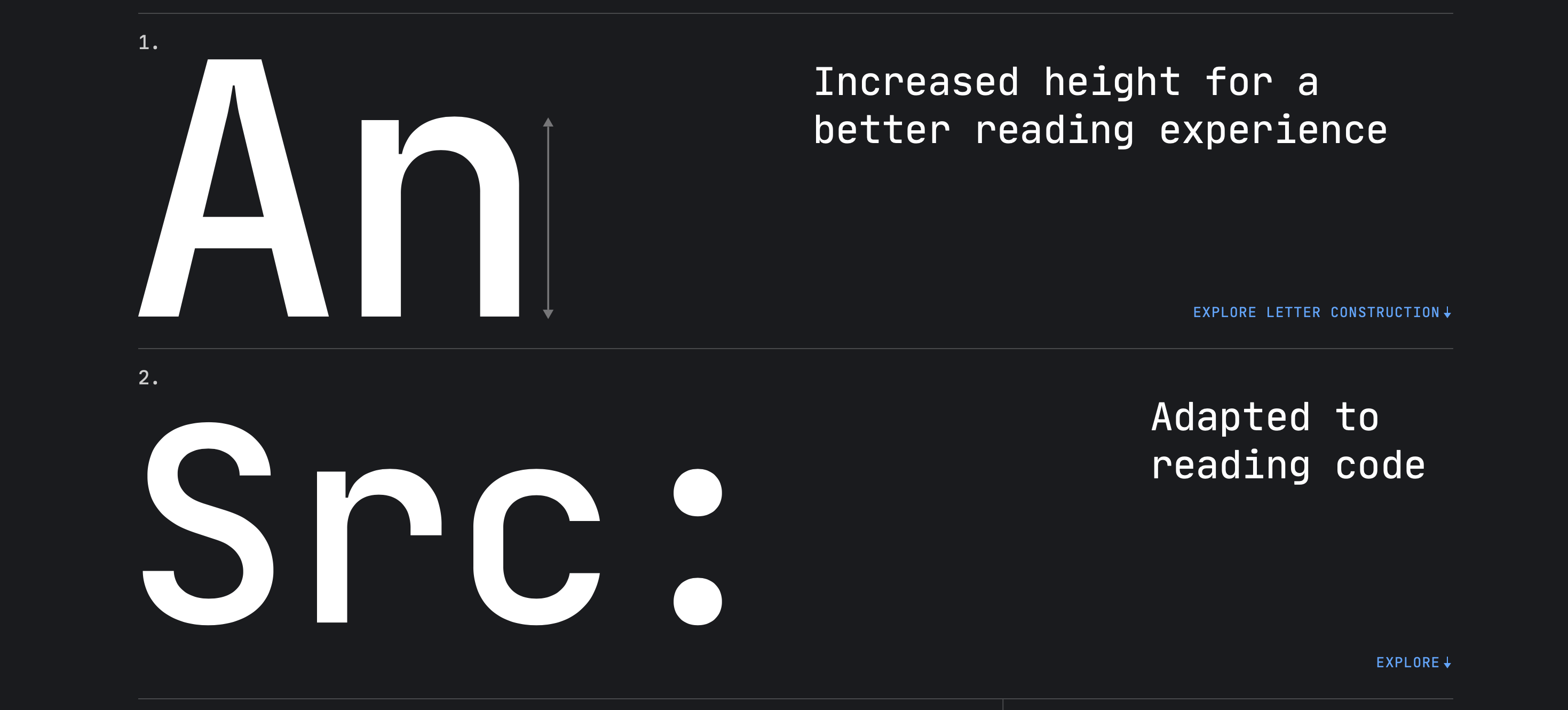 The next panel of animations is where we really start to see that product design aesthetic come to the fore. Sections of animated font features supported by punchy, easily digested content. And, that's the key thing for me: throughout this micro site the content has been written for the audience.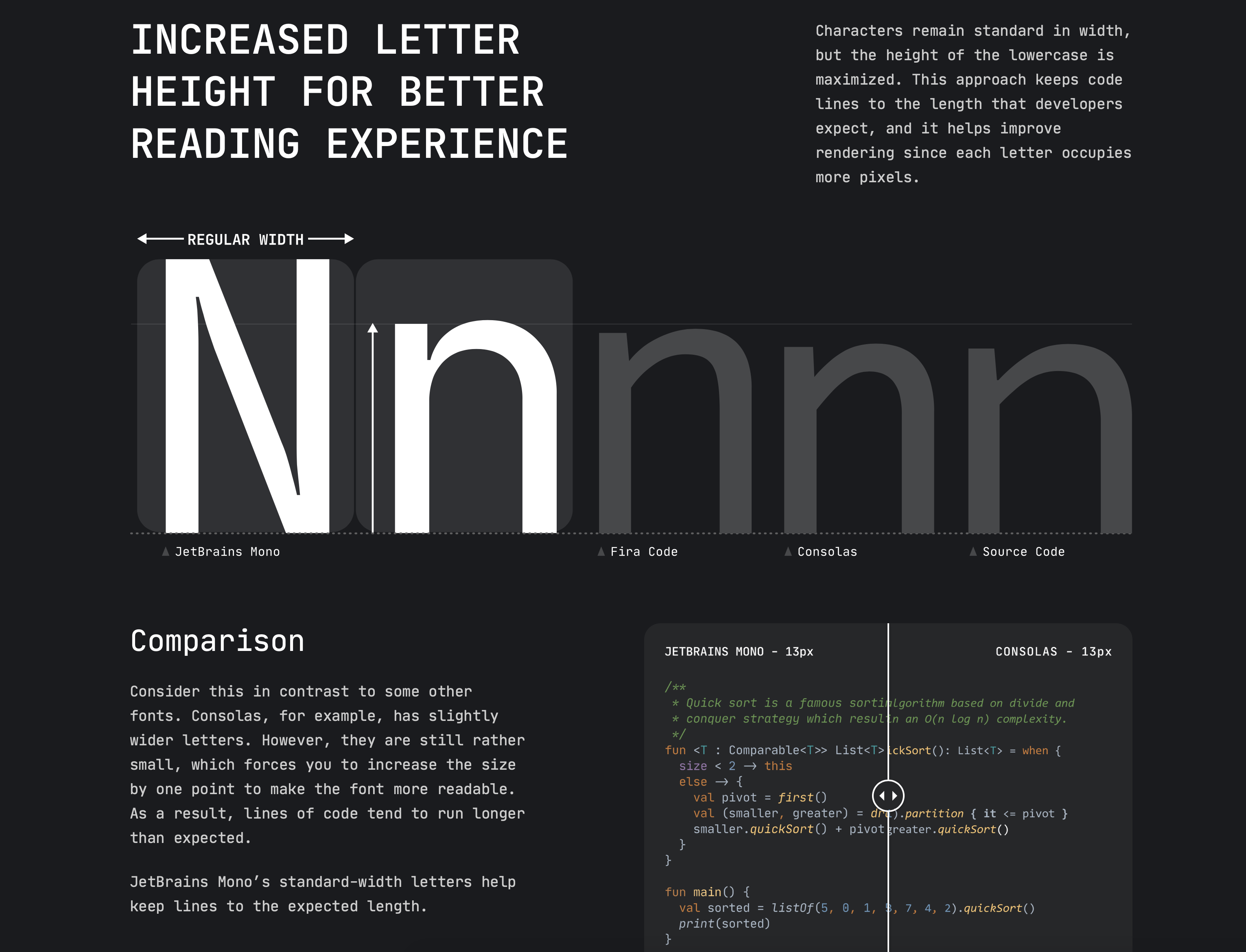 The features of the typeface are written about in terms of their advantage to you, the user. Rather than detailing the aesthetics, or the rationale, the content gives you the why rather than just the what. For example, higher x-height for easier reading. Distinctive character forms for quicker scanning. The list goes on.
JetBrains know their audience. They know that developers spend all day in an IDE staring at code. It's critically important that a typeface designed for code reduces fatigue and aids scanning. It needs to get out of the way and, only when needed, subtly support the developer to make their job easier; the inclusion of coding ligatures, obvious differences between zero and cap 'O', balanced whitespace either side of punctuation. These are tiny details. But all designed to smooth the experience.
If you write code, then give JetBrains Mono a try.
---
Specimens this week
Kinetic Refreshing design for Kinetic – light, duotone – all bolstered by stylish photography and a video. Interestingly, Kinetic has a companion iOS app – Kinetic Notes – that allows you to create simple text notes.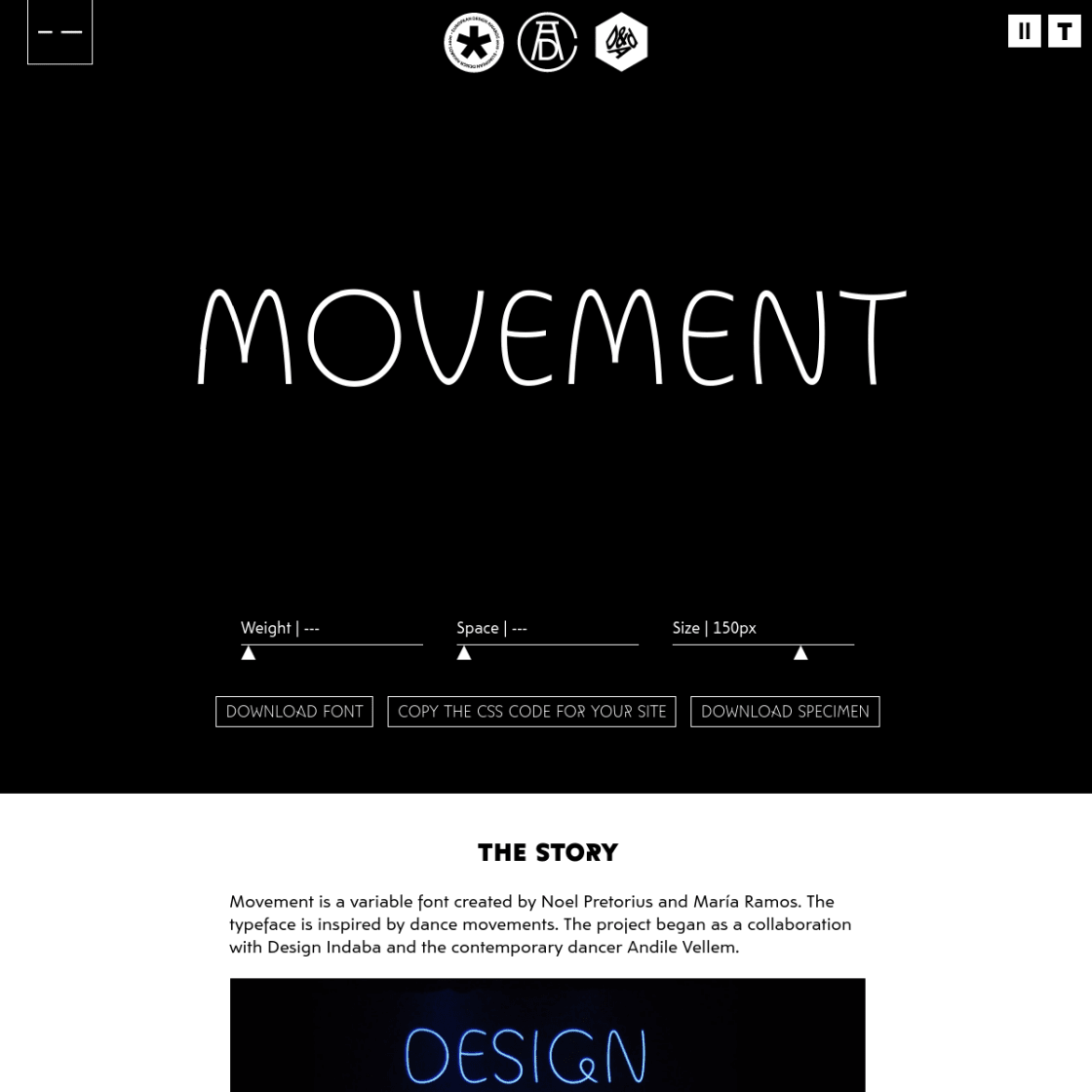 Movement A simple type tester specimen frames the real content – a video and description of the origin of the typeface.
League Mono Described as 'Five weights of monospace fun', the specimen for League Mono is a patchwork of subtle rainbow gradients with content describing the features of the font.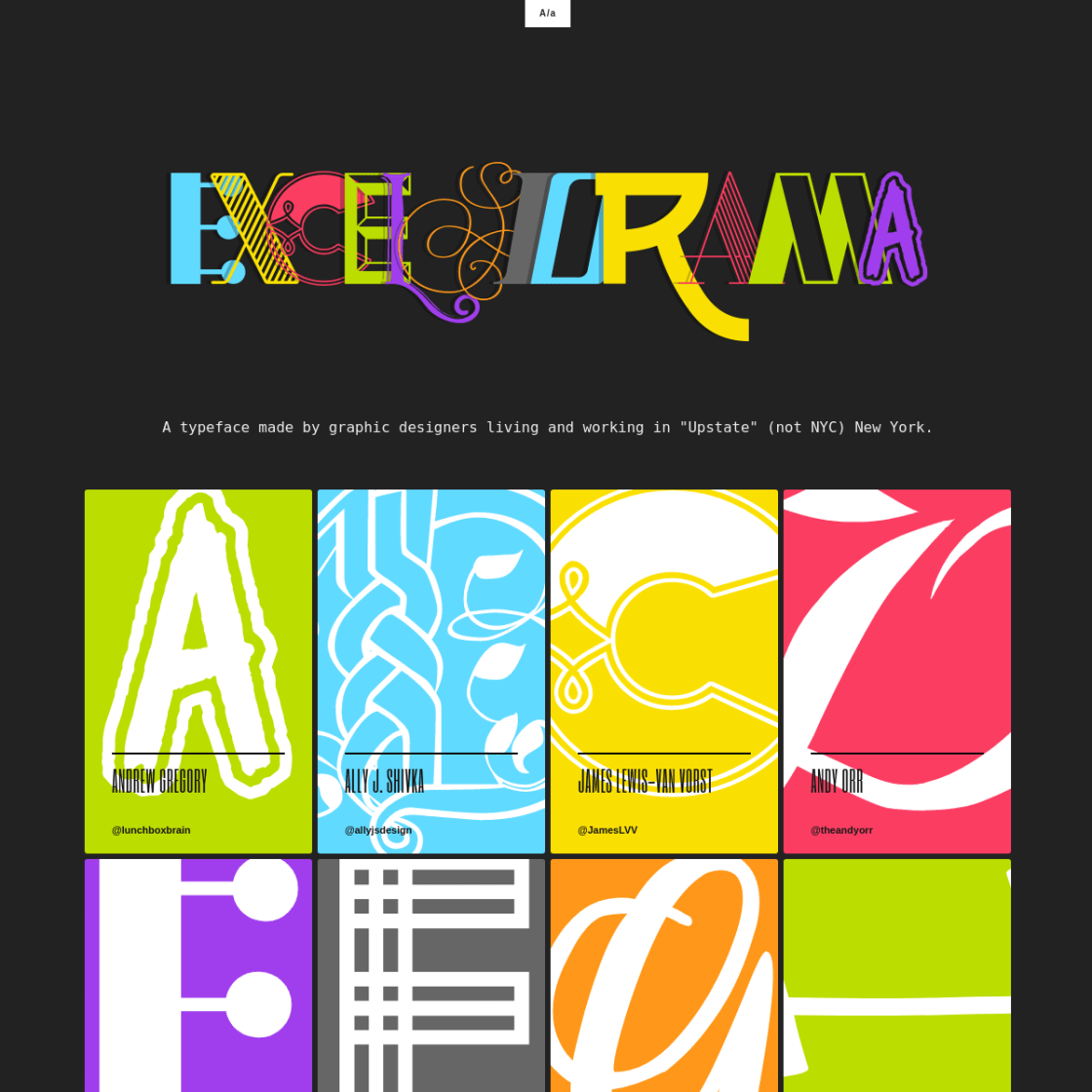 EXCELSIORAMA This is a fun specimen for a fun typeface. 'A typeface made by graphic designers living and working in "Upstate" (not NYC) New York.' each designer creating an individual glyph. Coloured panelled typesetters allow the user to explore the typeface further.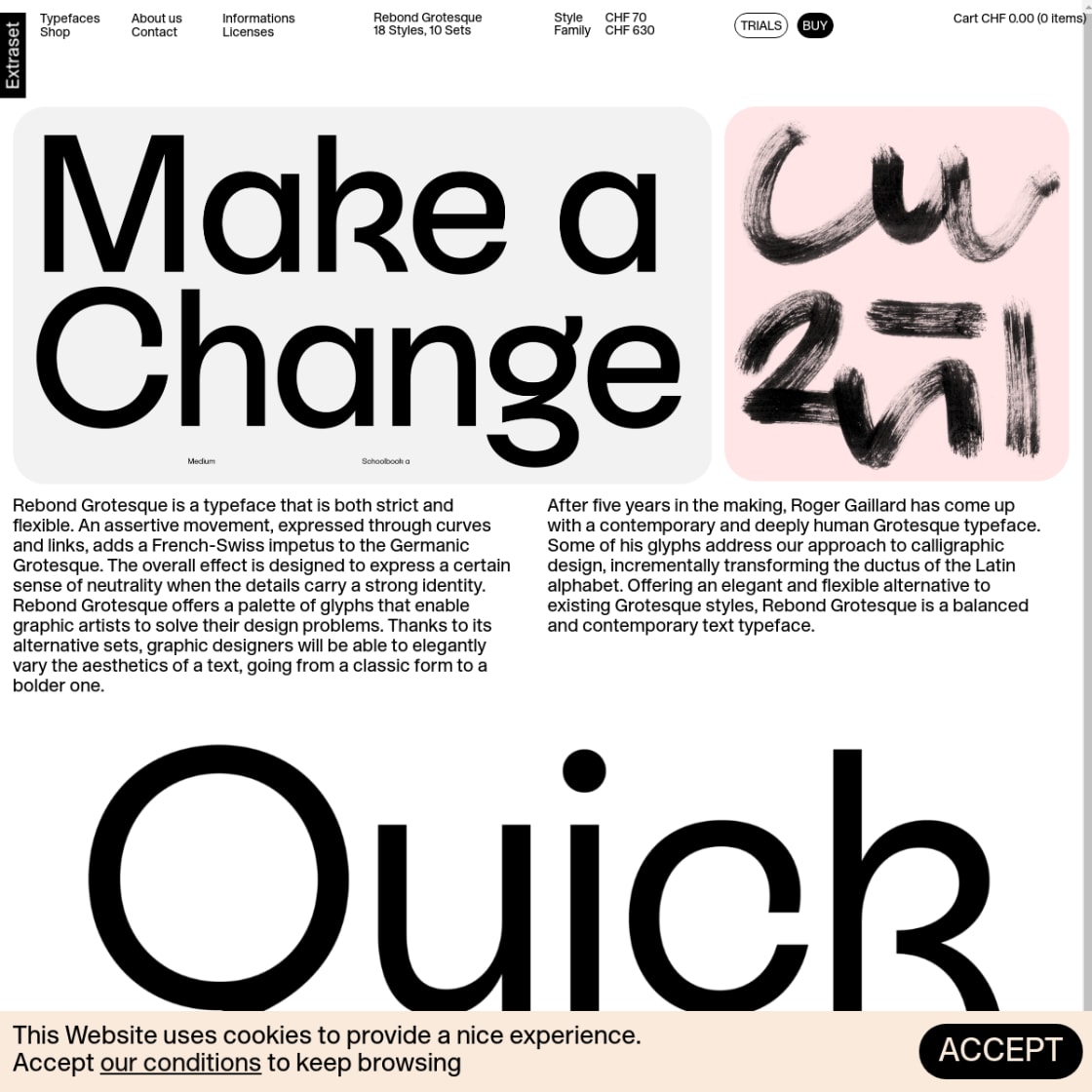 Rebond Grotesque Another detailed (and delightful) specimen from Extraset. It strikes exactly the right balance between inspiration, design, functionality, and technical features. The type tester is particularly good with toggles for all the font's features.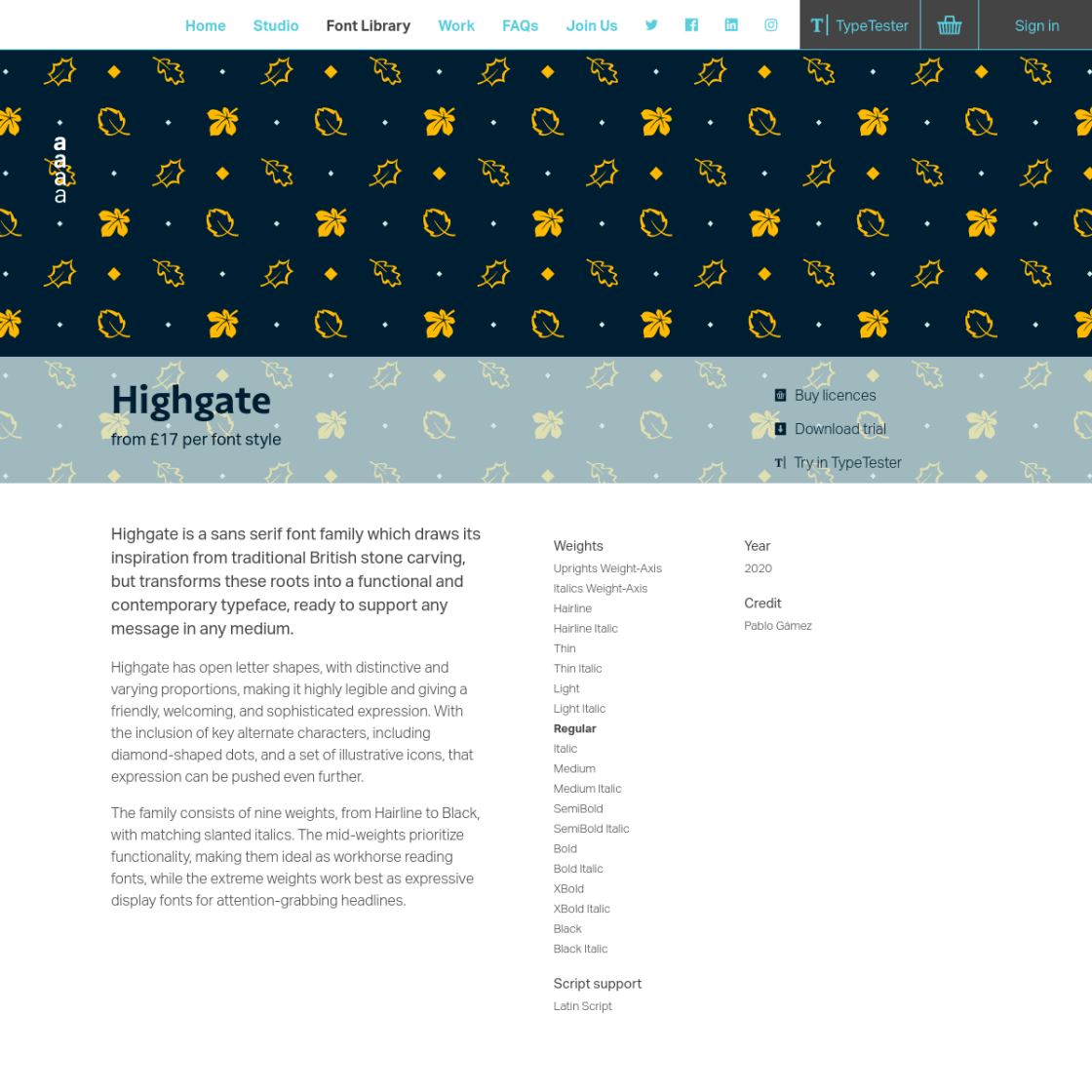 Highgate Dalton Maag's Highgate typeface specimen has the right balance of aesthetics, history and context, and font features. The animation displaying the variable font animation is particularly good, highlighting the different glyph shapes when traversing the weight axis. The changes to the little leaf glyph are particularly revealing as to the considerations of the type designer.
There are more specimens added this last week on the Type Specimen website. You can subscribe to the RSS feed for daily updates, or follow along on Twitter, if that takes your fancy.
---
A few interesting typography links
Mark Hurrell writes about EXPERIMENTS IN PROGRAMMATIC ART DIRECTION, musing over the effects of new CSS units, such as vh and vw, combined with SVG support and a simple programmatic system of rules can result in exciting directions for art direction on the web.
Programming Fonts is a comparison for freely available Mono fonts.
A scathing, but accurate, reflection on what Silvia Sfligiotti describes as 'Auto-tune typography'. My thoughts are this equally applies to a lot of modern digital product design: safe, predictable, measurable.
Leading-Trim: The Future of Digital Typesetting. This is a pretty big little thing. Ethan Wang efficiently articulates the challenges with spacing in typography on the web since, well, CSS1. Leading-trim aims to rewrite our relationship between space and type on the web.