Hello again! I'm Mark, and this is the Specimen Digest, a weekly typography newsletter. As we have both feet firmly planted into summer in the UK, and Europe shuts even further down with what semblance of summer holiday folks can muster, it's been a bit quiet on the typography front. August is not really the best time for anything, other than taking stock and recharging batteries before that relentless drive to the largest of annual arbitrary deadlines: December 31st. That sounds like a long time away, but it'll be here in a heartbeat. So, for now, weary typographers, take a moment. Catch your breath.
Speak to you next week! Mark
---
Font weight 300 considered harmful
I was going to pop this article in my links section below, but it's good, and so revealing, it needs a bit more chewing over.
The article neatly describes a problem that has existed for decades but needs continual reminder and reinforcement: things look different on different operating systems, browsers, and devices. It is a central tenet of the Dao of Web Design (published two decades ago) that we must except – no, embrace – the fluidity of the web as a medium. This includes typography. Yet, we try to control it, often with unforeseen results. Unfortunately, it's the user that often pays the price.
In this case, the author outlines the issue with font rendering at certain weights between Mac OS and Linux.
MacOS' somewhat bolder rendering of normal-weight fonts is therefore a very weak excuse for using font-weight: 300, which literally forces the browser to not use a normal-weight font (or bolder) unless there is no other font available.
Mac OS seems to be the outlier here. Enforcing an optically heavier weight using vendor-specific CSS and anti-alias smoothing. Solving this issue seems to involve changing the font config on the user's Linux machine, and opting out of the system displaying certain font weights.
I'm all for customising your own experience, but this seems to put undue burden on the user to fix a problem that lies elsewhere.
For the longest time, good web designers have not rested on their laurels when it comes to building experiences that progressively enhance and accept the fluidity of the web. Performing browser and environment testing due diligence is one way to circumvent the issue the author describes. Putting in the time to test optical weighting on different devices and viewing environments should be a natural part of the design and QA process. We have to ask ourselves: what has gone wrong here? Have we grown lazy? Should font designers, browser vendors, and Linux users just step into line and render our designs as envisaged? Or, just like always, should we do the hard work so they don't have to?
---
Specimens this week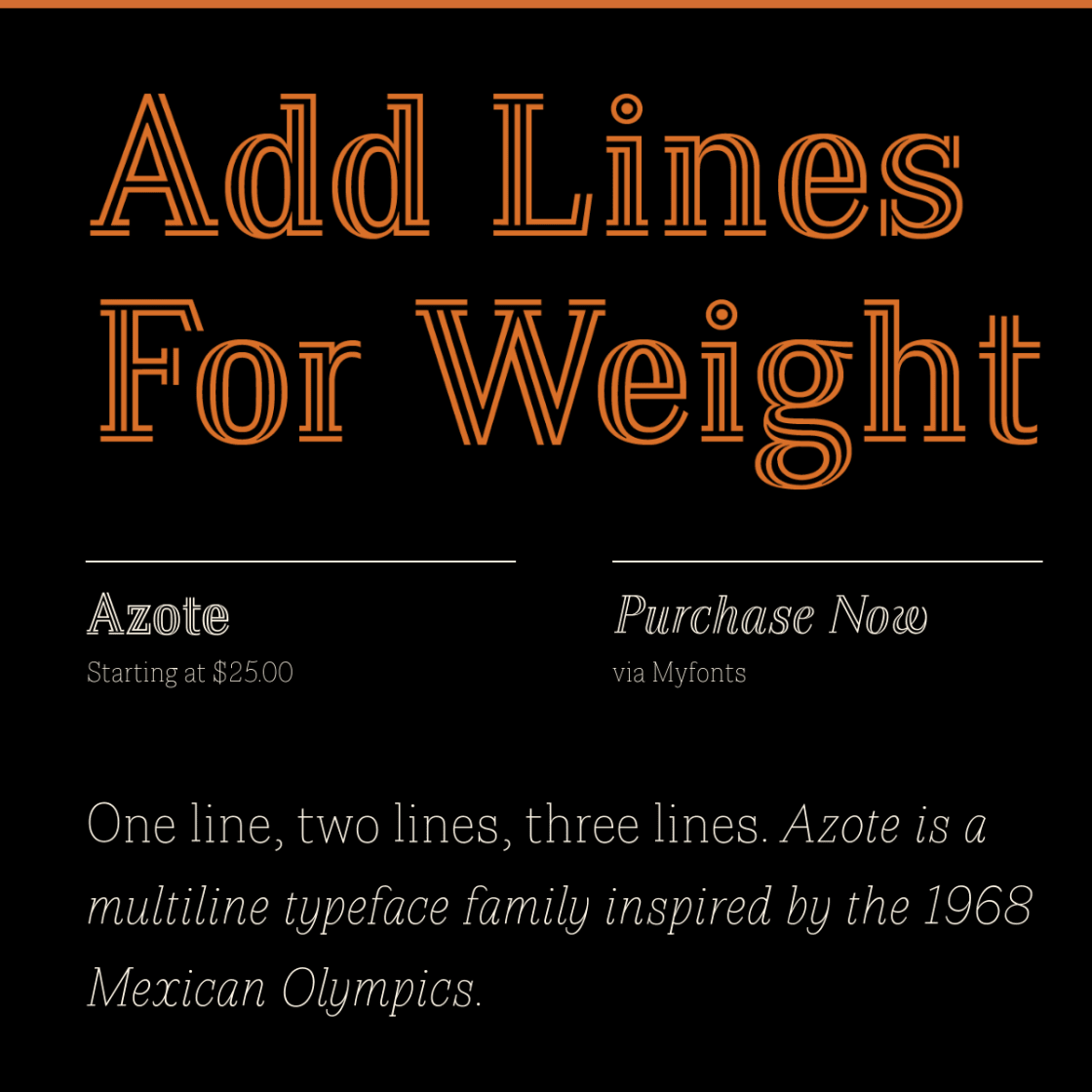 Azote This is a traditional, but effective, digital specimen. Large sample text in different weights visually show the benefits and features of the font.
FB Big Caslon Another slick, informative and exploratory specimen from The Font Bureau. Vertically stacked sample text invites the user to explore the large text before a simple categorised glyph list.
Aeonik Pro A straight-forward typetester leads the specimen for Aeonik Pro, before an equally straight-forward list of weights, glyphs, and features. Nothing out of the ordinary here. The carousel of images of usage is where the interesting design lies on this specimen. Some beautiful pieces of work that I wish had been transposed into digital form.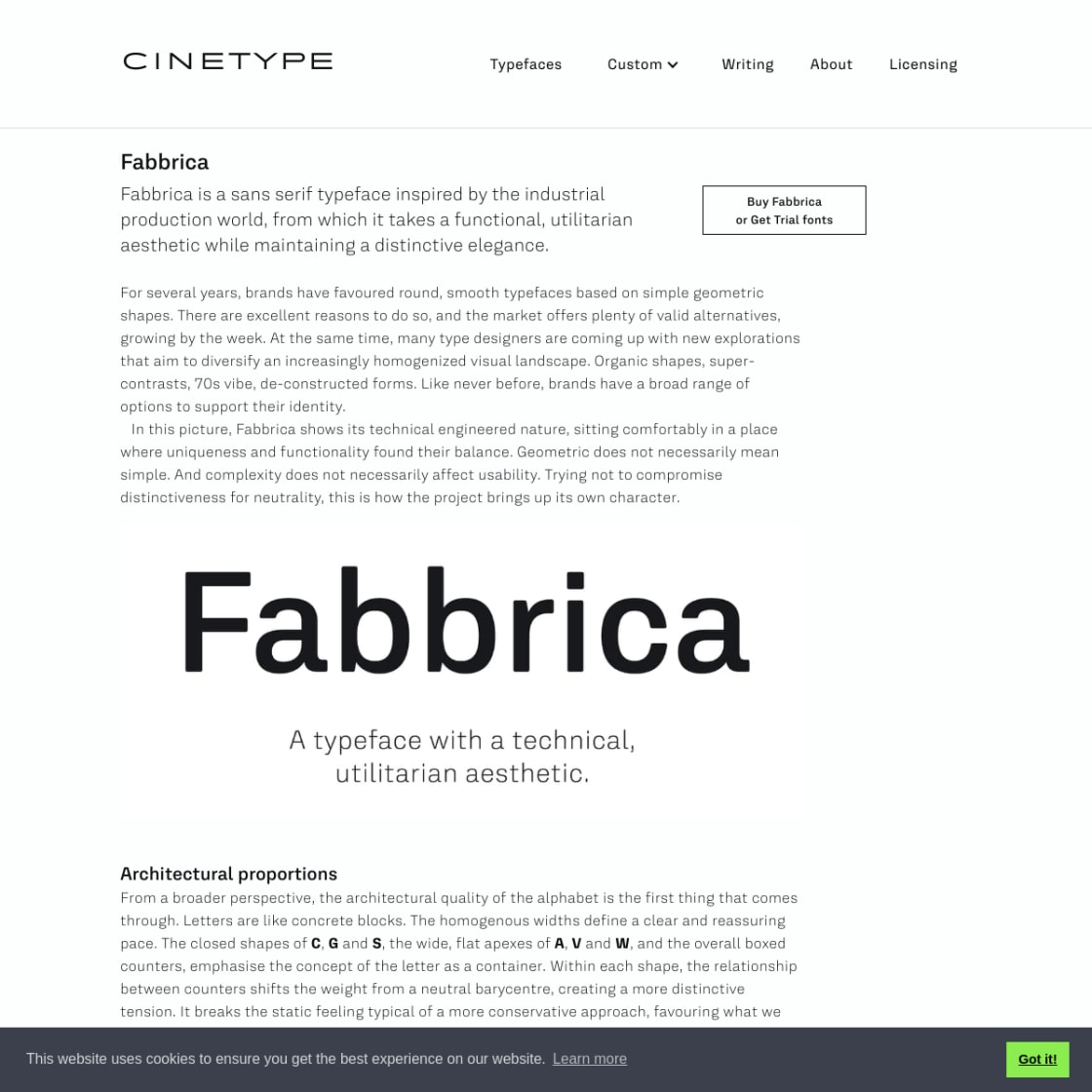 Fabbrica This is fantastic. A specimen that is, in fact, just an article documenting the conception and influence for Fabbrica's creation.
Migra The standout of this specimen are the stacked images of example usage. The illustrations documenting the ligatures and typesetting are particularly outstanding.
Beatrice This is a great specimen focussing on the technical details and features of Beatrice. Following a template for all of Sharptype's specimens, Beatrice is presented amongst plenty of information about the process and examples of usage.
There are more specimens added this last week on the Type Specimen website. You can subscribe to the RSS feed for daily updates, or follow along on Twitter, if that takes your fancy.
---
A few interesting typography links
For some reason, Typeface 2 has escaped my attention. Font management, organisation, previewing all within a nifty, simple interface.
Stephen Nixon provides a way of building Recursive mono for code environments.
As he said on Twitter:
Want a custom build of Recursive for Code? People asked for a way to make their own versions of the 4-style "Rec Mono for Code" families for coding apps. So, I made a script (plus instructions) to build a family with the styles & features you want:
Great, in-depth article on Dalton Maag's new typeface for Rakuten.